MoFA's deputy spokeswoman: Vietnam-China trade facilitated post COVID-19
Thứ Sáu, 13/01/2023, 11:19
PSNews - The Vietnamese Government has resumed pre-pandemic procedures and processes on the issuance of visas and visa exemption certificate to foreigners and Vietnamese residing abroad since March 15, 2022, in line with the 2019 Law on Entry, Exit, Transit and Residence of Foreigners in Vietnam and guideline documents.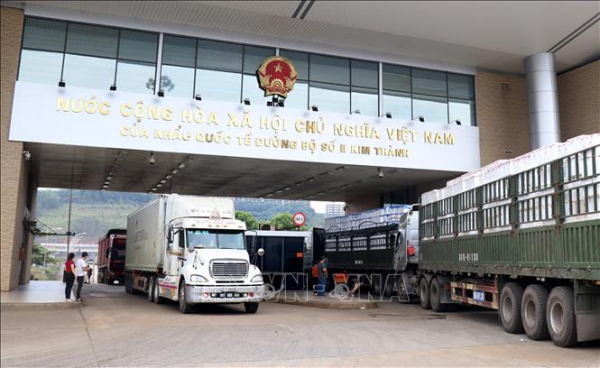 It was to create favorable conditions for foreign tourists, experts and investors to enter Vietnam, contributing to socio-economic recovery and development while ensuring COVID-19 prevention and control in the new situation, Foreign Ministry's deputy spokeswoman Pham Thu Hang told the regular press conference in Hanoi on January 12.
With China's border reopening on January 8 and COVID-19 under control in Vietnam, the Vietnamese agencies concerned are working closely with the Chinese side to carry out cooperation activities that suit new situation and match their practical interests, she said.
She asked Vietnamese citizens interested in going abroad, including China, to actively update visa policies and regulations on entry-exit and pandemic prevention and control in the host countries. When they need support or timely information, they were advised to contact representative Vietnamese agencies and the host authorities.
About coordination to facilitate the exchange of goods between the two nations, Hang said in accordance with the joint statement during China's official visit by Party General Secretary Nguyen Phu Trong and talks between their leaders, competent agencies have maintained regular exchanges and ensured the smooth trade and operation of supply chains, thus facilitating their exports-imports.
Hang said that according to the Chinese General Administration of Customs, all nucleic acid testing measures for imported goods, including frozen goods, at border gates have been lifted since January 8.
She added that during the upcoming Lunar New Year (Tet) festival, many Chinese border gates will take measures to facilitate customs clearance, including clearance by appointment.
She urged localities, especially domestic enterprises, to actively grasp information to work with Chinese partners to build plans for goods transportation and customs clearance following China's reopening.