New population data project launched in Vietnam
22:11 05/05/2022
The General Statistics Office (GSO) and the United Nations Population Fund (UNFPA) Vietnam on May 5 launched a new project in Hanoi to support Vietnam to generate and utilize quality population and development data for the period 2022-2026.
During the ceremony held in Hanoi on May 5's morning, UNFPA's State of the World Population Report 2022 "Seeing the Unseen: The case for action in the neglected crisis of unintended pregnancy," was released for Vietnam.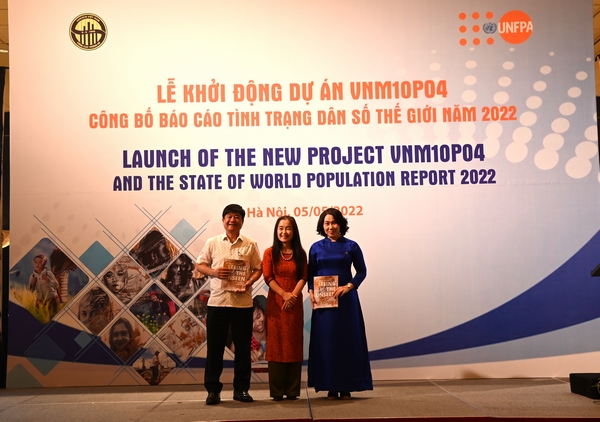 Vietnam is in the midst of rapid transformation for its socio-economic growth. The country has been implementing the Socio-economic Development Strategy (SEDS) 2021-2030, the Socio-economic Development Plan (SEDP) 2021-2025, and the National Plan of Action to achieve the Sustainable Development Goals (SDGs) by 2030.
Just like other countries in the world, COVID-19 has taken a heavy toll in Vietnam on socio-economic development, as well as on population shifts with regard to mortality, fertility, and migration. In this context, reliable and quality statistics is fundamental to formulate, implement, monitor and assess the country's progress to achieving socio-economic and SDGs targets. 
With the total budget of USD 1.9 million from 2022 to 2026, this new project aims to support Vietnam in applying new technologies and communication platforms to the data collection, analysis, and dissemination, and ensuring evidence-based policies, strategies, and programs for the achievement of SDGs by 2030.
Addressing the event, Ms. Nguyen Thi Huong, GSO Director General expressed: "Over the past 45 years of cooperation between Viet Nam and UNFPA, GSO's capacity in the generation and management of data and statistics has significantly improved".
She added that, the project, which is part of the 10th Country Program between the General Statistics Office and UNFPA, is in line with the Viet Nam Statistical Development Strategy's implementation roadmap for the years 2021-2030, with a vision until 2045.
Accordingly, this new project will focus on improving capacity of data producers to collect, analyze and disseminate disaggregated data on population and sexual and reproductive health issues to fully achieve the demographic dividend potentials; on equipping policy makers with knowledge and skills on application of new data.
The project will also aim at exploring new data set and data communication and management to support evidence-based population policy development, which can also be used for disaster management and climate action as well as develop capacities for data utilization for evidence-based advocacy and policy development.