PPA wins first place at 2021 English Olympics Contest for young cadres
20:08 18/10/2021
The finale of the 2021 English Olympics Contest for young cadres took place on October 16 in Hanoi University. An officer from the People's Police Academy (PPA) defeated more than 90,000 candidates nationwide to win the first prize of the contest.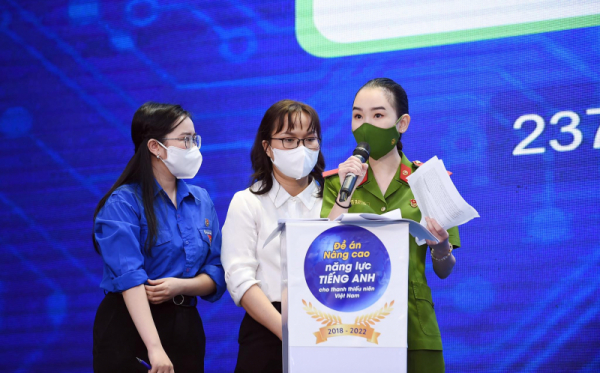 Launched 3 months ago, the contest drew the participation of over 90,000 young cadres working at various ministries, agencies, organizations and sectors in the country.
The PPA is the only institution under the Ministry of Public Security that has a representative in the finale. Officer Hoang Thi Linh Chi from the PPA was selected for the finale.
At the final competition, 15 contestants were divided into 5 teams competing in 3 sections: Introduction in English, Q&A and eloquence.
The first prize went to team Fabulous,  which included Hoang Thi Linh Chi from the PPA, Vo Thi Thu Giang, reporter of Nghe An Newspaper and Ha Hong Ngoc from the Dong Hoi Youth Union chapter, Quang Binh.