Vietnam to attend SEA Games 31 with 1341 members
12:32 28/04/2022
Minister of Culture, Sports and Tourism Nguyen Van Hung on April 27 signed a decision to form a Vietnamese sports delegation to attend the 31st SEA Games with 1,341 members.
The delegation is led by Deputy Director General of the Vietnam Sports Administration Tran Duc Phan.
The Vietnamese delegation comprising a total of 1,341 people, including about 950 athletes together with coaches, doctors and experts, will take part in the event.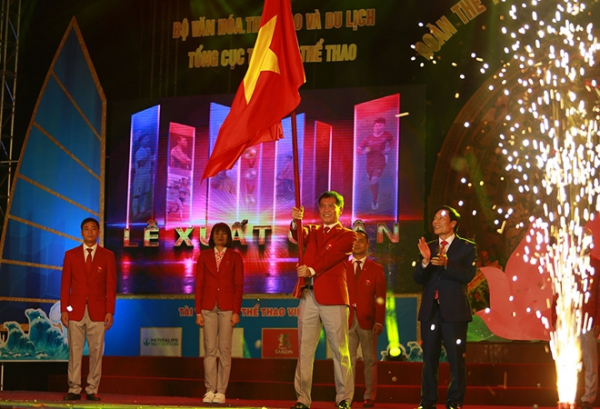 This is the largest number of members Vietnam has ever sent to a SEA Games. It is followed by Thailand (870 members), Malaysia and the Philippines (around 650).
A send-off ceremony for the Vietnamese sport delegation to the 31st Southeast Asian games (SEA Games) will be held at the Hanoi National Sports Training Centre this evening (April 28).
SEA Games 31, themed "For a Stronger South East Asia", will be held in the capital city of Hanoi and 11 neighbouring provinces and cities from May 12 to 23.
Featuring 40 sports with 526 events, it is expected to attract around 10,000 participants. The biennial event was initially slated for late 2021 but delayed due to the COVID-19 pandemic's impact.
* The Nam A Commercial Joint Stock Bank  - a partner that has been the main sponsor of the national chess championship for three consecutive years, announced its rewards for members of the national chess team participating 31st Southeast Asian Games (SEA Games 31) at a ceremony in Hanoi on April 27.
Accordingly, the reward totals 300 million VND (over 13,000 USD), including 20 million VND for each gold medalist, 10 million VND  for each silver winner, and 6 million VND for each bronze medalist.