Zero waste programme in Vietnam – from movement to habit
Chủ Nhật, 21/11/2021, 20:08
Zero waste programme is taking shape in Vietnam to adopt a more eco-friendly lifestyle. Let's find out how the green initiative has changed people's thinking and habit.

Zero waste has been defined in various ways by different people. It can be understood as a comprehensive waste management approach that prioritizes waste reduction and material recovery, with the ultimate aim of creating a circular economy and shrinking waste disposal to zero. 
The following comments shed light on how the zero waste concept has been received in Vietnam.
"I know what zero waste is and I've also known the 3R Model (Reduce, Reuse, Recycle) for a long time because I had opportunities to study in developed countries.  But right from the beginning, I think it's very difficult to realize in Vietnam," said 39-year-old Dao Hoang Anh, who works for TikTok Vietnam.
"I have the idea of zero waste. It's been more than a year that I've been truly interested in the movement, since I began to work for Genesis school, whose development direction is toward green and sustainable education in line with the UN's Sustainable Development Goals," said Nguyen Thi Chuyen, an employee of Hanoi-based Genesis School and a member of the Green Team, a Genesis green sustainable and community initiative.
"I used to think zero waste was simply a good act to make the environment cleaner and more beautiful," said Le Gia Huy, a member of the Secretariat of the Students' Association of the University of Economics Ho Chi Minh City.  
Zero waste developments in Vietnam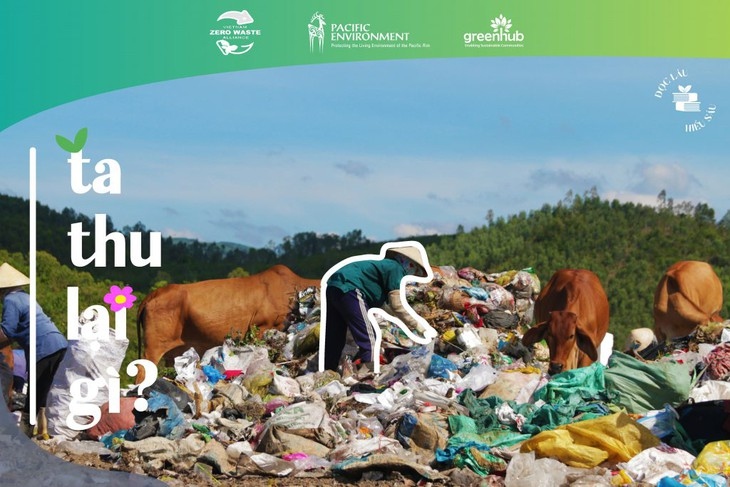 Zero waste was first known in Vietnam in 2017 through the support of the Global Alliance for Incinerator Alternatives (GAIA) and Da Nang city's Center for Consultancy on Sustainable Development (C4SD).
But it wasn't until two years later that the movement truly took off in Vietnam, involving also the Centre for Marinelife Conservation and Community Development, GreenHub, the Cham Islands Marine Protected Area, and RMIT University.
Quach Thi Xuan, former Director of C4SD and now coordinator of the Vietnam Zero Waste Alliance (VZWA), said the establishment of the movement and the alliance in Vietnam has been based on four strategies - building zero waste models, policy advocacy, corporate campaigning, and capacity and network building.
"The concept of zero waste has been spreading in Vietnam. GreenHub, a Vietnamese social organization that supports green development, has included the zero waste concept in its key activities," said Xuan.
"The ancient town of Hoi An has added building zero waste models to its environmental protection plan. Our fanpage now has 3,000 followers. All these things indicate that zero waste is slowly becoming accepted by individuals, agencies, organizations, and local administrations."
Zero waste achievements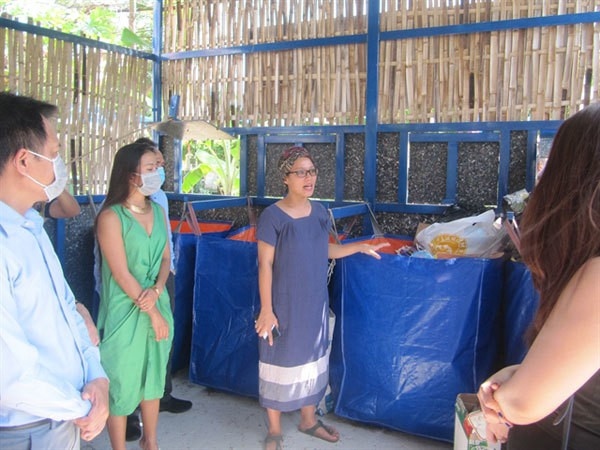 The zero waste model now focuses mainly on Hoi An and Tuy Hoa city in the central province of Phu Yen, instead of original four communities, said Xuan.
"After two years, we decided to re-set the development direction for the model and deploy investment in Hoi An and Phu Yen, because right from the beginning we planned to turn Hoi An into the first zero waste city in Vietnam. In addition, we want to spend all our resources and re-assess which places have the most potential and the leaders with the greatest of initiative in applying the model," she explained.
Xuan said Hoi An, a UNESCO-recognized ancient town in Vietnam's central region, has even outlined a plan for environment protection and made a commitment to the plan.
Meanwhile, the leaders of Tuy Hoa city in Phu Yen province, according to Xuan, phoned Green Hub to request help for a zero waste model.
"Local authorities in Hoi An or Tuy Hoa are open-minded and recognize that the zero waste model the right direction for a sustainable future," Xuan added.
Under various sponsor programs, Hoi An has built a Materials Recovery Facility (MRF), an indispensable tool in zero waste model, on Cham Island. On the mainland, there are two MRFs.
By 2022 Hoi An will have 7 MRFs under the sponsorship of the International Union for the Conservation of Nature (IUCN), the World Wildlife Fund (WWF), GreenHub, UNESCO, and Inhabitat.
Difficulties ahead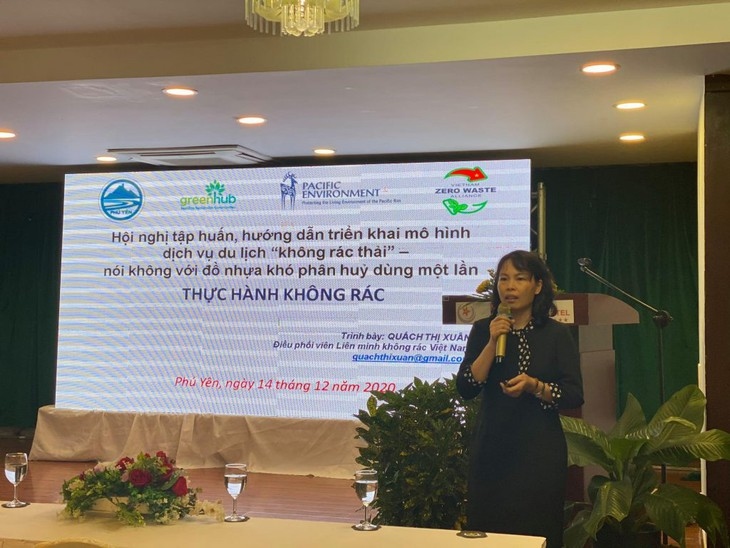 Raising public awareness is probably the biggest problem facing the zero waste model in Vietnam.
"Clearing the thinking about waste and its management is the biggest difficulty. Convincing people is difficult but persuading relevant agencies and officials is sometimes much more difficult. In addition, Vietnam has very few environmental organizations specializing in waste treatment," confided Quach Thi Xuan.
"People often think about technical difficulties and whether or not we have enough money or resources or infrastructure to implement such a model. But from my own experience, I find that the biggest difficulty is to change people's behaviour and habits. But that doesn't mean it's an impossible mission. What we need is time and a well-prepared roadmap," said Nguyen Trung Hieu, who is in charge of student affairs at the Genesis School.
"We believe that the root of the issue remains the dissemination of knowledge and changing the perceptions, thinking and actions of students, teachers, and officials in the university. What makes our green initiative for sustainable living at a university different is the use of technology in education and user-centric communication methods," said Le thi Hanh An, Director of the Zero Waste Campus project of the University of Economics Ho Chi Minh City 
Between 2006 and 2009, the Japan International Cooperation Agency (JICA) helped Vietnam carry out a 3R (Reduce, Reuse, and Recycle) initiative in Hanoi toward the Development of a Sound Material-Cycle Society under which, wastes are sorted at the source. But to date, the sorting is a kind of formalism.
Xuan opined that the reason for the failure of previous models was the lack of infrastructure relevant to waste sorting and proper investment in bio fertilizer production and recycling facilities.
"Our pilot model focusing on technical support can be considered a grassroots-level approach. But if there are no policies or regulations of state management agencies, it will be hard for such models to spread. That's why policy advocacy is one of our main missions. It's a higher level approach," noted Xuan.
Another reason for previous failure was inconsistent understanding of the regulations, from central to local level, on waste sorting, Xuan said, adding that burning garbage is the last option in the waste hierarchy in the zero waste model.
But she said everything began to change when plastic waste pollution became a global concern and Vietnam was named the world's fourth biggest dumper of plastic waste into the sea. Since then almost all organizations have included a plastic waste component in their activities.
Solutions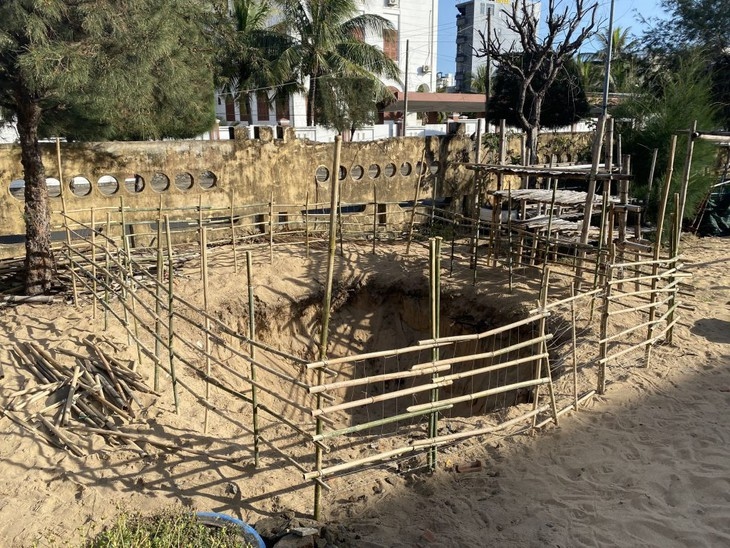 Now that the zero waste model has gradually been developed in Vietnam, the question is how to get people nationwide to accept it and make it part of their daily habit, Xuan said.
"My policy recommendation is that as soon as we have specific regulations on waste sorting, we should prepare our infrastructure for separate collection and treatment of different types of waste, from which to create capital sources. An important step is to promulgate policies that decentralize waste management. That means involving the private sector in collecting fees and treating all the waste in a small residential area, but in line with the regulations set for waste sorting," she suggested.  
In addition to communications, schools, according to Xuan, should make sure that children stay aware of the importance of the model.
"In the long run, community commitment is the key. The involvement of people in raising everybody's awareness and understanding of waste sorting and reduction, the responsibility of companies and state policies will help us deal with these environmental issues. But another important factor is properly re-allocating and optimizing investment," she concluded.