Newly-elected foreign minister mentions four priorities of the foreign service
13:50 09/04/2021
Senior diplomat Bui Thanh Son was appointed as foreign minister on Thursday, one of 12 new ministers of the new government.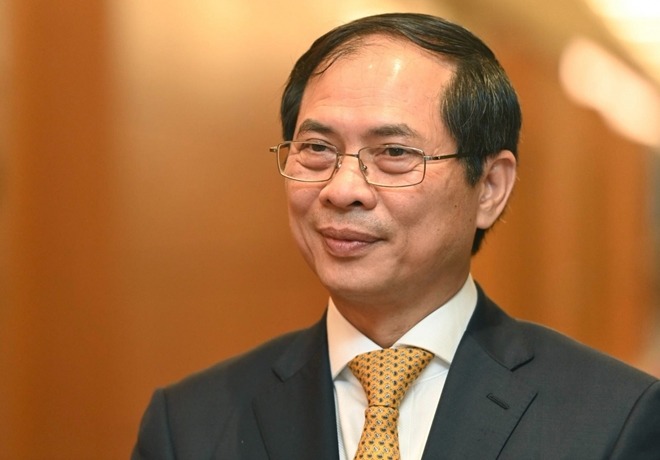 Minister of Foreign Affairs Bui Thanh Son.
Speaking to the press, the newly-elected foreign minister said that it is his honor to be appointed as the foreign minister after 35 years of working as a diplomat, and vowed to do his best to fulfill his duties as the leader of the diplomatic service of Vietnam.
He also said that he is lucky to become the foreign minister after the 13th National Party Congress was successfully organized. The 13th National Party Congress has issued the foreign policy.
Accordingly, Vietnam pursues the foreign policy of independence, self-reliance, peace, cooperation and development. Vietnam will continue multilateralizing and diversifying its foreign relations, and actively integrating into the international community. Vietnam is ready to be friends and reliable partners of all countries in the world.
Minister Bui Thanh Son also underlined 4 priorities of the foreign service in the time to come.
Firstly, Vietnam's foreign service will focus on deepening its relations with all important partners, especially neighboring countries, strategic and comprehensive partners as well as traditional friends. He explained when Vietnam has good relations with other countries, it can maintain peace, stability and cooperation in a more solid and sustainable manner.
Secondly, Vietnam's foreign service with its 96 representative agencies in other countries should seek foreign resources in addition to the domestic strength for the development of the country.
Minister Bui Thanh Son emphasized that, in the context of the 4th industrial revolution, the foreign affair sector should take the lead and make breakthrough in seeking various markets for domestic enterprises.
Thirdly, in the short term, Vietnam's foreign service should successfully fulfill the country's role as the Chairman of the UN Security Council in April as well as its duties of a non-permanent member of the Security Council in 2021.
Vietnam's foreign service should also actively participate in other UN activities, including peacekeeping operations. The Ministry of Foreign Affairs will work closely with the Ministry of Defense, the Ministry of Public Security and other ministries and agencies to actively participate in other regional and international arrangements, particularly ASEAN, APEC and ASEM.
Fourthly, it is important for the sector to connect between the overseas Vietnamese communities in other countries and the home country. Vietnam's representative agencies in other countries should disseminate the Party, State's policy toward overseas Vietnamese and encourage them to make contributions to the country.