PM praises Public Security Forces for their disaster response and relief in Central provinces
16:37 12/11/2020
Prime Minister (PM) Nguyen Xuan Phuc recently sent a letter praising the People's Public Security Forces for their active participation in natural disaster response, search and rescue, and disaster relief in the Central provinces over the past time.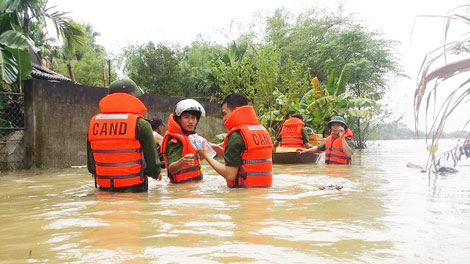 Police officers evacuate people from flooded area.
The theme of the letter is translated as follows:
Over the past time, natural disasters caused huge losses and severely affected the lives of people in the Central region. In this situation, the Party Central Committee's Secretariat, the Government, and the Prime Minister instructed functional forces at all levels to take drastic measures to respond to and overcome the consequences of the rainstorms and floods.
The PM stressed that the People's Public Security Forces had implemented good plans and measures to ensure security, traffic order, and safety in flood-hit areas while actively participating in rescue and relief missions and activities in support of disaster-striken people. They safely protected all shipments of relief supplies sent by the Party, the State, the Vietnam Fatherland Front, relevant agencies, mass organizations, businesses, and benefactors nationwide to victims of natural disasters.
The PM praised the police officers and soldiers who had braved their lives during search and rescue missions, and operations to evacuate victims of disasters out of dangerous areas. Their efforts saved people's lives and property. Typically, Captain Truong Van Thang, a policeman of Huong Viet commune (Huong Hoa district, Quang Tri province) who bravely sacrificed himself to protect people in the flooded mountainous area, is a good example for the entire Public Security Forces to follow.
On behalf of the Government, PM Phuc recognized and highly appreciated the efforts and achievements of the People's Public Security Forces in natural disaster response, rescue, and relief over the past time. He especially commended the policemen who directly rescued victims in flooded areas and landslides in the Central provinces.
The Prime Minister affirmed that the significant participation of the Public Security Forces in response to the recent floods and storms in the Central region contributed to upholding their role in the cause of national security protection and social order maintenance as well as in support of people across the country during difficult and hard times.
Given the complicated situation of floods and storms in the coming time, PM Phuc requests the People's Public Security Forces to strengthen coordination with the People's Army and the local authorities to maintain security and social order, conduct search and rescue missions upon request, and help local people overcome possible damages caused by natural disasters, contributing to beautifying the image of public security officers and soldiers who wholeheartedly serve the people, and deserve the trust of the Party, the State and the people.