Government chief expects stronger strategic partnership with Australia
Thứ Bảy, 16/10/2021, 17:43
Prime Minister Pham Minh Chinh has underscored the need to effectively carry out the Vietnam -Australia Plan of Action for the Strategic Partnership for the 2020-2023 period, and augment economic, trade and investment cooperation.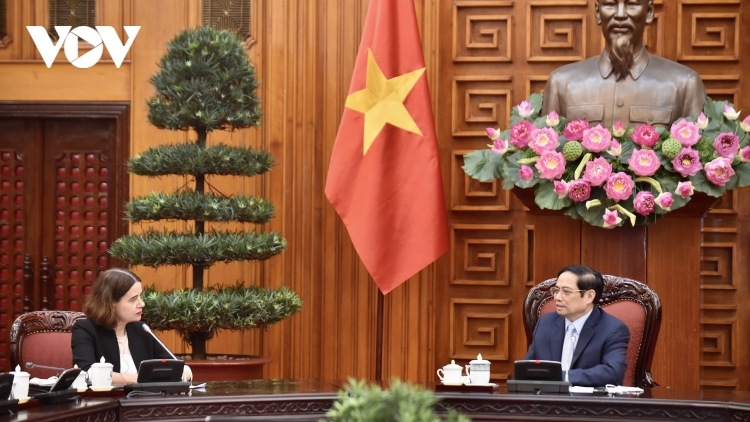 At a reception for Australian Ambassador to Vietnam Robyn Mudie on October 15, PM Chinh highlighted the bilateral cooperation between the two nations, while saying that two-way trade saw an upward trend in the opening months of this year, marking a year-on-year rise of nearly 50% despite difficulties caused by COVID-19.
According to him, both nations have ample room for stronger growth in the time ahead. The Government
He called on Australia to consider opening its door for Vietnam's agro-fishery products and create favourable conditions for the Vietnamese community in the country, as well as increase scholarships for Vietnamese students and prioritise Vietnam in official development assistance (ODA).
The nation will offer optimal conditions for Australian citizens living and working in the country, the cabinet leader pledged.

He thanked the Australian Government for its commitment to providing a total of 5.2 million doses of COVID-19 vaccine and a large amount of medical supplies to Vietnam following phone talks between the Vietnamese PM and his Australian counterpart Scott Morrison in May, which indicates sentiments of the Australian Government and people for Vietnam. He also expressed his hope that Australia will continue to assist Vietnam's COVID-19 fight.

In May, PM Chinh and his Australian counterpart Scott Morrison held phone talks to discuss bilateral cooperation and issues of shared concern.

For her part, the Australian ambassador affirmed that her nation will further support Vietnam in terms of vaccine and medical equipment, as well as help raise health care capacity.
Australia always treasures and desires to elevate its relationship with Vietnam to  new heights in the near future, hoping that Vietnam will support its strategic partnership with ASEAN and go ahead with close cooperation in climate change issues, particularly at the upcoming 2021 United Nations Climate Change Conference, also known as COP 26.

At the reception, the two sides expressed their elation at the strengthened political trust, expressing a wish to promote economic, trade and investment in a practical and efficient manner. They also compared notes on international and regional issues of common concern.