HCM City celebrates 50 years of Vietnam-India diplomatic ties
Thứ Năm, 06/01/2022, 21:03
The 50th anniversary of Vietnam-India diplomatic relations were celebrated by the Ho Chi Minh City People's Committee on January 6, with the participation of municipal leaders and those from southern localities alongside Indian community representatives based in Ho Chi Minh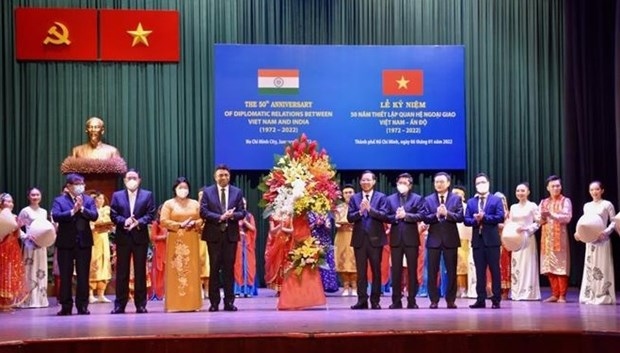 Upon addressing the ceremony, Phan Van Mai, standing deputy secretary of the municipal Party Committee and chairman of the People's Committee of Ho Chi Minh City, hailed the continuous development of multifaceted co-operation between the country and its Indian partners.
Recent notable milestones include the two nations upgrading relations to a comprehensive strategic partnership in 2016, whilst Vietnam has consistently affirmed its consistent policy of attaching importance to and promoting relations with the South Asian nation.
Last year, despite being heavily impacted by the pandemic, India continued to be one of the top 10 Vietnamese trading partners, with two-way trade turnover reaching nearly US$11 billion, representing an increase of approximately 40% compared to the previous year.
According to Mai, Vietnamese people always appreciate India's wholehearted support, such as sharing special drugs for COVID-19 treatment, boosting co-operation in technology transfer for vaccine production, and sending a military ship carrying 100 tonnes of medical oxygen to supply the nation.
"The relationship between Vietnam and India, which has been tested over time, is a testament to the trust, friendship, and strong commitment of both countries' leaders," Mai said.
He expressed his confidence that bilateral co-operation activities which will be launched in the coming time will help to propel the comprehensive strategic partnership between the two nations, as well as further co-operation between Ho Chi Minh City and India. Indeed, this should be done for the mutual benefits of the two peoples, and for peace, stability, and the wider prosperity of Asia and the world as a whole.
In response, Madan Mohan Sethi, Indian consul general in Ho Chi Minh City, highlighted Vietnam as a reliable friend of India and expressed appreciation for the great support that the Vietnamese Government and people have given in the fight against the COVID pandemic during the period from April, 2021, to June, 2021.
Co-operation between the two sides has been expanded to many important fields, such as education, oil and gas, hydropower, diplomacy, start-ups, and space technology, adding that there remains ample room for both sides to further step up all-around co-operation the near future, he emphasized.