Level-2 Field Hospital Rotation 5, Engineering Unit Rotation 2 deployed to UN missions
Thứ Năm, 29/06/2023, 22:27
 A ceremony was held in Ho Chi Minh City on June 29 to deploy Level-2 Field Hospital Rotation 5 and Engineering Unit Rotation 2 of Vietnam for peacekeeping operations in the United Nations missions in South Sudan and Abyei.
The event saw the presence of President Vo Van Thuong, Commander of the people's armed forces and Chairman of the National Defence and Security Council.

Level-2 Field Hospital Rotation 5, which will replace Level-2 Field Hospital Rotation 4 in South Sudan, consists of 63 members, including 11 females. Meanwhile, Engineering Unit Rotation 2, replacing Engineering Unit Rotation 1 in Abyei, has 184 members, including 19 females.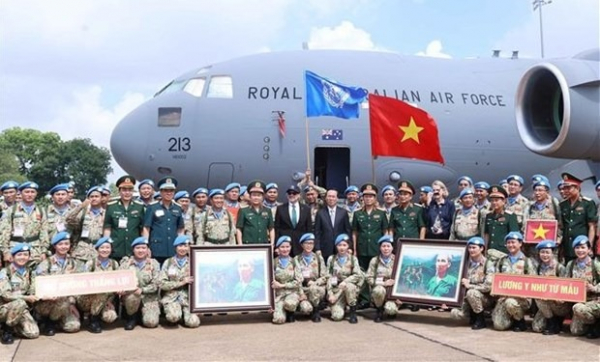 In his speech, President Thuong affirmed the Party and State's consistent foreign policy of independence, self-reliance, and diversification and multilateralisation of external relations for regional and global peace, cooperation, and development. He stressed that the country's political commitment is to stay ready to join hands in settling difficult issues and maintaining a peaceful and stable environment for cooperation and development.

So far, the country has sent 533 officers and professional soldiers to UN peacekeeping operations, and they have properly fulfilled their tasks. The achievements by the UN peacekeeping force of Vietnam have been highly valued, helping with the realisation of the Sustainable Development Goals and the Millennium Development Goals of the UN.
The State leader affirmed that the Party and State always put trust in the Vietnamese peacekeeping force, are proud of the force's achievements, and also believe that the deployed units will build up attainments of their predecessors and bring into play their mettle, wisdom, and capabilities during the performance of the noble duties assigned by the Party, State, army, and people to meet requirements of the UN.

President Thuong also took this occasion to thank the UN, international partners, and peace-loving people around the world for their precious assistance for Vietnam's national construction and safeguarding, as well as preparations for and deployment of personnel to UN peacekeeping missions.