Minister: Vietnam's re-election at ILC proves international community's trust
21:55 15/11/2021
Minister of Foreign Affairs Bui Thanh Son has highlighted the significance of Ambassador Nguyen Hong Thao's re-election to the International Law Commission (ILC) for the 2023-2027 tenure.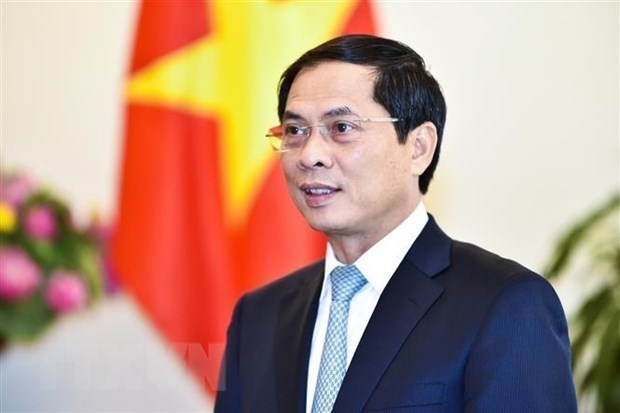 Talking with the press, Son said following the Party and State's policy of promoting multilateral diplomacy, Vietnam not only successfully performed important duties as ASEAN Chair 2020 and a non-permanent member of the United Nations Security Council for 2020-2021 but also actively and proactively sent officers to work in prestigious international organisations. 
Ambassador Thao's re-election to the ILC with 145 approval votes is evidence of the sound external policy of the Party and the State, and reflects the international community's support and trust of Vietnam, affirming the country's enhanced stature and prestige on international arena.
Moreover, Vietnam's continued participation in the ILC, an agency specialised in developing and codifying international law, demonstrated a strong shift in the country's international integration which is to actively contribute to building international law together with the international community for a world of peace, national independence, democracy, respect of international law, development cooperation and social progress.
It also manifested the maturity of Vietnam's multilateral diplomacy, the international community's trust in Vietnam's persistent efforts as well as active and responsible contributions to the UN and multilateral institutions. The event also proved that the ability and expertise of Vietnamese diplomatic officials have increasingly improved, gradually meeting regional and global standards.
As for Ambassador Thao, the re-election is the international community's recognition of his expertise, capability and experience as well as active contributions to important international law issues during his working tenure from 2017-2022 in the ILC, Son said.
Apart from the ILC, Vietnam has been actively bidding for seats in important international organisations and institutions such as the UNESCO Executive Board (for 2021-2024 term), the Intergovernmental Committee for the Safeguarding of the Intangible Cultural Heritage (2022-2026 term), the World Heritage Committee (2023-2027 term), and the UN Human Rights Council (2023-2025 term), he added.