NA Chairman, ministry talk preparations for global conference of young parliamentarians
Thứ Sáu, 31/03/2023, 23:14
The preparation for the ninth Inter-Parliamentary Union (IPU) Global Conference of Young Parliamentarians was among the issues discussed at a working session between National Assembly (NA) Chairman Vuong Dinh Hue and the Ministry of Culture, Sports and Tourism (MCST) in Hanoi on March 31.
Chairman Hue said the global conference, to be held in Hanoi this September, is a major diplomatic event which will focus on the youth's role in promoting the realisation of the sustainable development goals via digital transformation and innovation. Besides, cultural and human values in sustainable development will also form a topic of the conference.

He asked the MCST to send representatives to participate in the organising committee and sub-committees, and coordinate to prepare for the Vietnamese delegation's participation in the session about cultural and human values in sustainable development.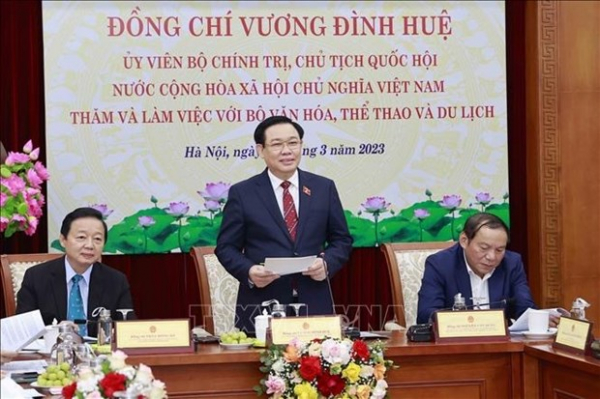 The ministry was also requested to work with other parties to organise activities introducing Vietnam's culture and tourism to delegates while holding youth exchanges and dialogues, exhibitions on startup, innovation and digital transformation, along with musical performances as part of the conference.

At the working session, participants also looked into the preparation for the NA leader's official visits to some Latin American countries. The coming trips will feature such activities as the Vietnamese culture weeks that will include art festivals, photo exhibitions, and film weeks.

They also considered the supplementation of law-making tasks to help perfect regulations in the field of culture.