PM hails Vietnam – Poland cooperative relations
Thứ Bảy, 18/03/2023, 19:44
Vietnam wishes to strengthen multifaceted cooperation with Poland, a traditional friend and partner in Central Eastern Europe, Prime Minister Pham Minh Chinh told Polish Foreign Minister Zbigniew Rau.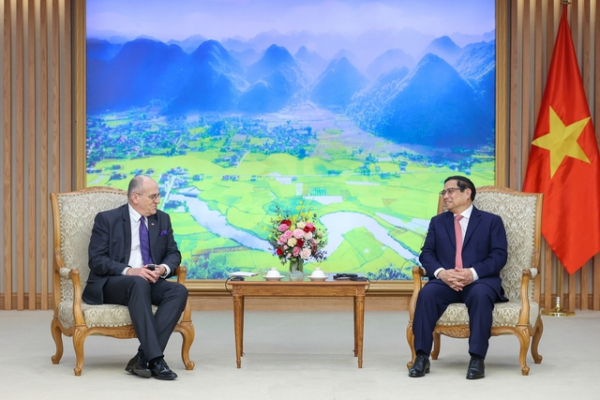 Receiving the visiting minister in Hanoi on March 16, Chinh thanked Poland for donating nearly 1.4 million doses of Astrazeneca vaccine and 8 tonnes of medical supplies to help Vietnam combat COVID-19.
He lauded the fine development of the Vietnam – Poland relations over the past seven decades, and suggested the two sides increase the exchange of delegations at all levels in order to enhance political trust and mutual understanding, creating a foundation for promoting and expanding bilateral cooperation in all fields.
Chinh acknowledged Poland as Vietnam's largest trading partner in Central Eastern Europe for many years, noting despite the COVID-19 impact, economic-trade cooperation between the two countries has continued to maintain strong growth, with two-way trade turnover in 2021 and 2022 hitting a record high of more than US$2.5 billion.
He requested that Poland create favourable conditions for Vietnam's agricultural, forestry and fishery products to penetrate deep into the Polish market. He also encouraged Polish businesses to step up investment in the fields of pharmaceuticals, food processing, and the manufacturing industry in Vietnam.
The PM suggested that Poland soon ratify the EU-Vietnam Investment Protection Agreement (EVIPA) to facilitate equal and mutually beneficial investment cooperation between the two countries, and at the same time lobby the European Commission to soon remove the 'yellow card' for Vietnamese seafood products, meeting the interests of Polish and EU consumers, as well as ensuring the livelihoods of hundreds of thousands of workers in the Vietnamese fishery industry.
He also exchanged views with the visiting diplomat on a number of measures to promote bilateral cooperation in the fields of education-training, culture-tourism, agriculture, science and technology.
Minister Zbigniew Rau for his part affirmed Poland wishes to further strengthen cooperation with Vietnam, Poland's most important partner in Southeast Asia.
He acknowledged Chinh's proposals and said relevant ministries and agencies of Poland would work closely with their Vietnamese counterparts to concretise the proposals.
He expressed Poland's desires to ramp up cooperation with Vietnam in the fields of Poland's strength, such as information technology, smart cities, green technology, and environmental protection.
Both host and guest agreed that the two countries should strengthen cooperation in multilateral and regional forums.
With regard to the East Sea issue, the two sides emphasized the importance of ensuring security, safety and freedom of navigation and overflight in the East Sea, as well as settling disputes by peaceful means in line with international law, especially the 1982 United Nations Convention on the Law of the Sea (UNCLOS).
He proposed that the Polish Government create conditions for Vietnamese expats in Poland to stabilize their lives, making practical and effective contributions to the good traditional friendship between Vietnam and Poland.
Foreign Minister Zbigniew Rau conveyed the invitation of Polish Prime Minister Mateusz Morawiecki to invite Prime Minister Pham Minh Chinh to pay an official visit to Poland. The Vietnamese PM said the visit would be arranged at a time suitable for both sides.