PM Pham Minh Chinh attends 43rd ASEAN Summit in Indonesia
Thứ Ba, 05/09/2023, 15:10
 Prime Minister Pham Minh Chinh led a high-ranking Vietnamese delegation to attend the opening ceremony of the 43rd ASEAN Summit which was solemnly held at the Jakarta Convention Center, Indonesia on September 5.
The event featured the participation of leaders of ASEAN member states, the Secretary General of ASEAN and many representatives of partners and international organizations.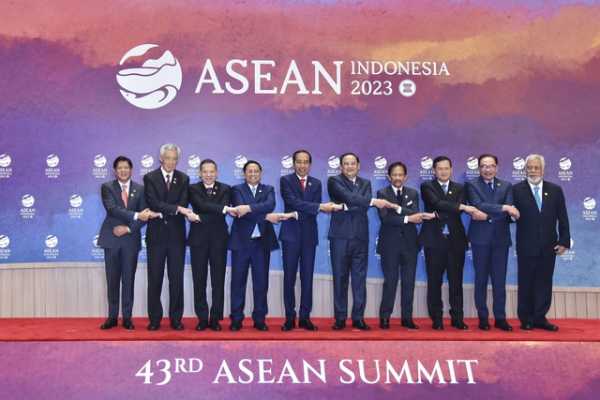 Taking place from September 5 to September 7 with 12 high-level meetings, the summit focuses discussions on establishing the foundation for ASEAN's long-term vision, helping ASEAN become more resilient to respond to challenges of the times, making ASEAN the center of economic growth and turning the Indo-Pacific into a peaceful and prosperous region.
Upon addressing the opening ceremony, Indonesian President Joko Widodo affirmed that all member countries share pride and love for the great ASEAN family. ASEAN solidarity is a precious value that all members cherish and preserve, he went on.
The opening ceremony extended a message of ASEAN's spirit of solidarity, always strongly moving forward, making the regional bloc's increasingly strong stature become a focal point of growth in the region and the world.
On the occasion, Indonesian President Joko Widodo, chair of the 43rd ASEAN Summit presented ASEAN awards to outstanding individuals. In which, Nguyen Thi Tuyet Minh, founding chairwoman of the ASEAN Women Entrepreneurs Network was awarded the ASEAN PRIZE 2023 for her contributions to the development of the ASEAN business community, especially promoting economic equality, and social status of women in ASEAN.
Nguyen Thi Tuyet Minh is the first Vietnamese and the 4th individual in ASEAN to receive this award. ASEAN Prize is envisaged as a regional premier award given annually to recognize inspiring achievements of ASEAN citizen or ASEAN-based organization with significant contribution toward ASEAN community-building efforts.
The ASEAN Prize is an annual ASEAN award held since 2018 to honor individuals and organizations with outstanding contributions to the process of building the ASEAN Community.
Founded in 2018, it is anchored upon the commitment of ASEAN Secretariat and ASEAN Member States who share mutual aspiration to acknowledge ASEAN citizens' and institutions' exemplary contribution in fostering ASEAN identity, promoting ASEAN spirit and upholding the ASEAN way.
The ASEAN Prize contributes to raising awareness, encouraging people's participation and contributions, and realizing a people-oriented and people-centred ASEAN Community.
Right after the opening ceremony, Prime Minister Pham Minh Chinh alongside ASEAN leaders attended the plenum of the 43rd ASEAN Summit.