President attends high-level seminar with US-APEC Business Coalition
Thứ Năm, 17/11/2022, 18:56
President Nguyen Xuan Phuc has emphasized that the country's comprehensive co-operative partnership with the United States will continue to develop once effective and successful links between firms of both sides are achieved.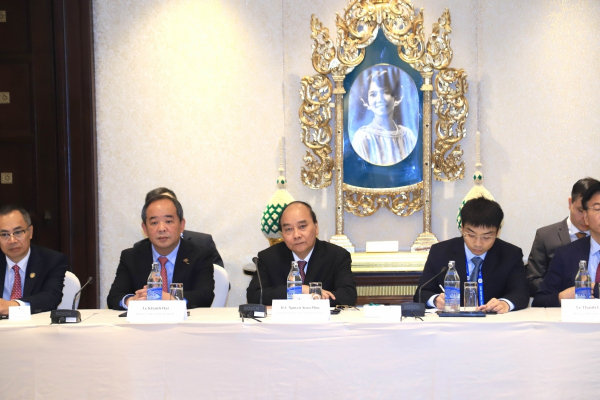 This comes as the Vietnamese President attended a high-level seminar on November 17 with the US-APEC Business Coalition, with the event featuring the participation of a number of major US groups and enterprises running business investment activities in the nation.
In his speech to welcome representatives of major US groups, important investors, and close friends of the country over the years, the Vietnamese State leader stated that through the positive development momentum of the joint comprehensive co-operative partnership, the seminar will be a platform for participants. Indeed, it will give them a chance to exchange, propose, and raise new ideas and new opportunities for business investment in the Vietnamese market in the near future.
Informing investors about the main highlights of the Vietnamese economy over recent years, President Phuc, in the context of many fluctuations occurring in the world, such as the COVID-19 pandemic, as well as opportunities, noted that Vietnam is focused on promoting internal resources to ensure pandemic control, economic recovery, and development which have achieved positive results.
The macro-economy remains stable with controlled inflation, with the country being among the top 20 in the world in terms of trade scale, GDP in the first nine months of the year increased by 8.83%, and international organisations such as the World Bank and the IMF have given optimistic forecast about GDP growth of about 7.5% to 8.2% this year. In addition, the UN Conference on Trade and Development (UNCTAD) has put Vietnam in the top 20 countries attracting FDI in the world.
The nation therefore advocates shifting from "attracting" FDI to "co-operating" with foreign investors in the spirit of equality, mutual development, mutual benefits, environmental protection, and prioritising projects that apply high technology, which has made active contributions to the country's sustainable development o.
In recent years, the nation has been a destination for many large US technology groups, such as Apple, Dell, Intel, and Nike.
President Phuc asked US businesses to strengthen links and offer the right conditions for Vietnamese firms as they become more involved in the production supply chain, thereby making Vietnam a hub in the regional and global value chain.
Expressing their respect and welcome for President Phuc's participation in the seminar, representatives of US businesses and economic groups all hailed Vietnamese economic growth achievements recorded over recent times. Many noted that it has always been at a high level compared to other economic regions throughout the world, especially policies on foreign investment attraction, COVID-19 pandemic response, as well as political and macroeconomic stability.
Michael Michalak, senior vice president and regional managing director of the US-ASEAN Business Council and former US Ambassador to Vietnam, shared experience of his many years of working in Vietnam. Accordingly, US businesses and investors continue to receive support through President Phuc and Vietnamese relevant agencies in various positions.
Quint Simon, representative of Amazon web service, said that the company has invested in Hanoi and Ho Chi Minh City for the past few years. He expressed his desire to see Vietnam implement more favourable policies for the development of digital economic services, such as cloud computing, ensuring network security, and pledging to accompany the country in the digital transformation process.
Speaking on behalf of Google, Quynh Do thanked relevant Vietnamese agencies for their positive support for Google's business activities over the years, adding that Google desires to continue to participate more deeply in the e-commerce development and digital transformation in Vietnam in the near future.
Representatives of large US enterprises and groups also noted that they would continue to expand their investment in Vietnam and introduce fresh products and modern technologies into the Vietnamese market. This will be in areas such as health, population, digital transformation in finance and banking, smart agriculture, renewal energy, construction of infrastructure, high technology, information technology, and research and development activities.
The Vietnamese leader stressed that the country will strive to step up green growth, digital economy, sci-tech, innovation and deeply join the global investment structure, trade order, and supply chain.
Furthermore, the country will continue to open its economy, switch to quality and focused FDI co-operation, and help domestic enterprises improve production capacity to join the supply chains of foreign-invested firms, he said. The President added that the country will also strive to create a transparent and favourable business environment in line with new-generation free trade agreements and toward practices of the Organisation for Economic Cooperation and Development (OECD).
These include maintaining socio-political and macroeconomic stability; removing economic bottlenecks related to legal institutions, infrastructure and human resources; developing supply chains and reducing transaction costs, especially logistics and administrative costs; as well as building an environment with stable policies, transparency, and accountability.
He stated his wish that with their pioneering roles, US firms will expand their operations in Vietnam in order to contribute to its socio-economic development moving forward.