President Phuc meets with Cambodian Grand Supreme Patriarchs
21:31 22/12/2021
State President Nguyen Xuan Phuc visited Great Supreme Patriarch Samdech Tep Vong and Supreme Patriarch of the Dhammayuttika Nikaya order Samdech Preah Sanghareach Bour Kry of Cambodia on December 22 as part of his official visit to the neighbouring country.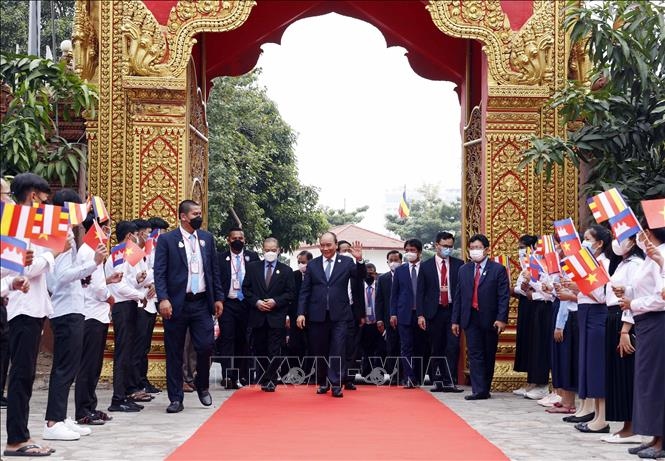 President Phuc expressed his pleasure at having the opportunity to return to Cambodia, as well as once again meeting the Buddhist monks and other senior dignitaries of Cambodian Buddhism. He wished them good health and a long life in order to continue making contributions to the cause of peace and national reconciliation as a way of developing a prosperous Cambodia with its people enjoying a happy life.
The Vietnamese State leader emphasised that the purpose of the trip to the neighbouring country by the Vietnamese high-ranking delegation is to further strengthening ties of "good neighbourliness, traditional friendship, comprehensive cooperation, and long-term sustainability" between both sides.
He also briefed the Cambodian Grand Patriarchs on the outcomes of his meeting with held King Norodom Sihamoni, Prime Minister Samdech Tehco Hun Sen, and other Cambodian leaders. Accordingly, the two sides emphasised that they will continue to preserve and develop solidarity between the two peoples, which has been cultivated by late King Norodom Sihanouk, along with generations of leaders and citizens of the two countries.
Both sides also pledged to put in their best efforts to cultivate the joint relationship, whilst also agreeing to organise a range of meaningful activities aimed at celebrating the 55th anniversary of diplomatic ties which started back in 1967.
In response, Grand Patriarchs Tep Vong and Bour Kry expressed their joy at the great and comprehensive achievements recorded by the Vietnamese people in the cause of national construction and development.
They stated that the visit of President Phuc and his entourage to Cambodia represents an important milestone, contributing to further boosting the solidarity and friendship between the two countries and bringing a range of practical benefits to citizens from both nations in the future.