President Phuc's trip to Cuba, US to promote vaccine diplomacy
22:03 16/09/2021
Vietnam will pursue multiple goals, including promoting vaccine diplomacy during State President Nguyen Xuan Phuc's upcoming trip to Cuba and the United States, according to Deputy Foreign Minister Dang Hoang Giang.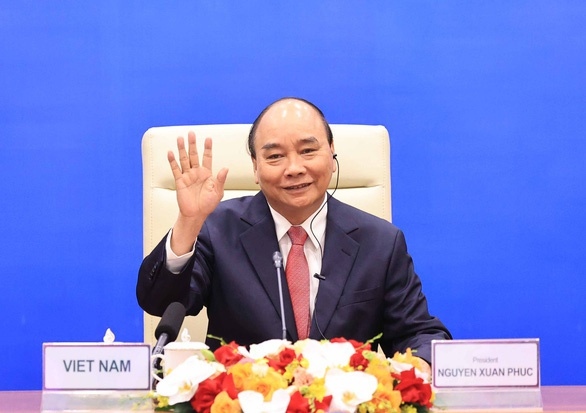 President Phuc is set to pay an official visit to Cuba from September 18 - 20 and then fly to New York in the US to attend the 76th session of the UN General Assembly.
The main purpose of the working trip will be to further realise the nation's open foreign policy, although the visiting delegation will also strive to achieve multiple goals during the trip, Deputy Minister Giang told media outlets on September 16.
According to the diplomat, the official visit to Cuba demonstrates Vietnamese policy of fostering relations with priority partners and traditional friends.
Both countries established diplomatic relations in 1960, and they have given  each other the best ever since. Over the years Vietnam has supplied embargo-hit Cuba with food, while the Latin American nation has pledged to provide Vietnam with COVID-19 vaccines and transfer of vaccine production technology.
The mutual support for vaccines, medical supplies, food, and other items between the two countries is of great significance, Deputy Minister Giang stressed, adding that during the visit leaders of both countries will hammer out measures to strengthen bilateral co-operation and to further deepen the solidarity that exists between the two sides moving into the new period.
At the UN General Assembly, President Phuc will deliver a strong message to international friends of a dynamic and innovative Vietnam  that cherishes peace, holds development aspirations and responsibly contributes to the joint work of the UN and the wider international community as a whole.
"Vietnam will clearly demonstrates its desire to work along with other countries to address current urgent issues, especially COVID-19 prevention and control. Therefore, apart from attending a high-level debate, President Phuc will meet with a number of heads of state and partners of Vietnam to discuss measures aimed at controlling the pandemic and outlining post-pandemic recovery plans," said Deputy Minister Giang.
Moreover, he added that the President's working trip also aims to promote the support and delivery of COVID-19 vaccines. Indeed, the President is scheduled to meet with leading US vaccine manufacturers to gain their commitments to quickly deliver vaccines, as well as medicines and medical supplies, to Vietnam.