Russian Security Council keen to grow general co-operation with Vietnam
22:26 02/12/2021
Dmitry Medvedev, deputy chairman of the Security Council of Russia and Chairman of the ruling United Russia Party, has affirmed his council's readiness to support and ramp up co-operation between the two countries across multiple fields.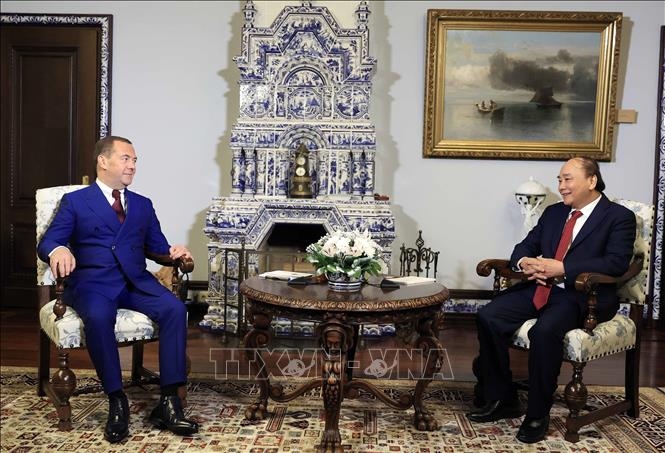 During a meeting held with President Nguyen Xuan Phuc on December 1 in Moscow, the security council chief said the visit by the Vietnamese leader and his wife served as a means of contributing to opening a new stage of strong, comprehensive, effective, and long-term development of the comprehensive strategic partnership between both sides. 
President Phuc, who is also Chairman of the National Defence and Security Council of Vietnam, expressed his pleasure at once again meeting Medvedev, a close friend of the Vietnamese people. He went on to use the occasion to congratulate the United Russia party on its 20th anniversary, which first occurred on December 1, 2001, while wishing the Party Congress set for December 4 a great success.
The Vietnamese State leader highly appreciated the role and position of the United Russia Party, which has been increasingly strengthened under the leadership of Medvedev, thereby making an important contribution to the development of the Russian Federation as a whole.
With regard to bilateral co-operation, both sides expressed satisfaction with the high reliability in terms of political ties between the two countries which serves as the basis for strengthening co-operation, whilst achieving many positive results in strategic fields such as defence, security, energy, oil, and gas.
The two sides also agreed to further beef up joint co-operation across a multitude of fields, including co-operation between the Ministry of Defence and the Ministry of Public Security of Vietnam and the Security Council of Russia. This will serve to contribute to firmly safeguarding the two countries' independence, sovereignty, and territorial integrity for the cause of peace, co-operation, and development in the region and in the world.
The two leaders also hailed the close and reliable co-operation between the Communist Party of Vietnam and the United Russia Party, with regular delegation exchanges and meetings being maintained in both bilateral and multilateral frameworks.
They affirmed that co-operation between the two Parties is important for the joint comprehensive strategic partnership and welcomed the signing of the co-operation plan between the two parties for the 2022 to 2024 period within the framework of President Phuc's official visit to Russia.
As part of the occasion, the Vietnamese President conveyed greetings and an invitation to visit Vietnam to Medvedev from General Secretary Nguyen Phu Trong.
Following the meeting, the Deputy Chairman of the Security Council of Russia and Chairman of the ruling United Russia Party hosted a banquet in honour of President Phuc and his wife.