Thailand facilitates AstraZeneca's supply of vaccine to Vietnam
Thứ Ba, 28/09/2021, 16:22
Thailand creates favourable conditions for AstraZeneca's production line in Thailand to produce and deliver vaccines to countries, including Vietnam, under its signed contract, Deputy Prime Minister and Public Health Minister Anutin Charnvirakul has said.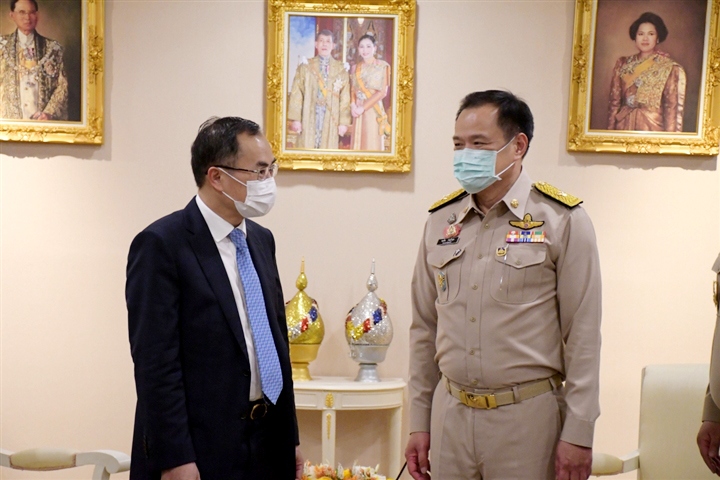 While receiving Vietnamese ambassador to Thailand Pham Chi Thanh on September 27, Charnvirakul said Thailand has achieved initial success in containing the COVID-19 pandemic and the country is gradually easing blockade measures towards living safely with COVID-19.
He suggested further strengthening coordination between the two countries in the COVID-19 fight, including sharing information and data on drugs and treatment regimens and vaccination, as well as supporting medical equipment and supplies.
The Deputy Prime Minister affirmed that the Thai Government will continue to expand vaccination coverage among foreign expatriates, including thousands of Vietnamese living, working and studying in the country.
Ambassador Thanh highly appreciated Thailand's goodwill and affirmed that the Vietnamese Embassy in Thailand is actively connecting the two countries' agencies to share information on vaccine and drug treatment and facilitate vaccine supplies.
The Ambassador thanked the Thai Government for supporting Vietnam in the COVID-19 fight, including vaccinating Vietnamese diplomats and expatriates in Thailand, as well as extending visas for Vietnamese citizens stranded in Thailand due to the pandemic.
The Ambassador suggested that the two countries' Health Ministries continue to promote cooperation in the context of the pandemic. He also suggested that the two sides soon consider mutual recognition of their vaccine passports, agree on regulations on entry and exit for vaccinated citizens, and examine the possibility of establishing a safe travel corridor between major cities and tourist destinations of the two countries to promote economic recovery.