US businesses consider Vietnam a leading market in business strategy
17:10 13/05/2022
Representatives of the US-ASEAN Business Council (USABC) and the US Chamber of Commerce (USCC) all hailed Vietnam's development potential and desired to expand cooperation with this market, during their May 12 meeting with visiting Vietnamese Prime Minister Pham Minh Chinh.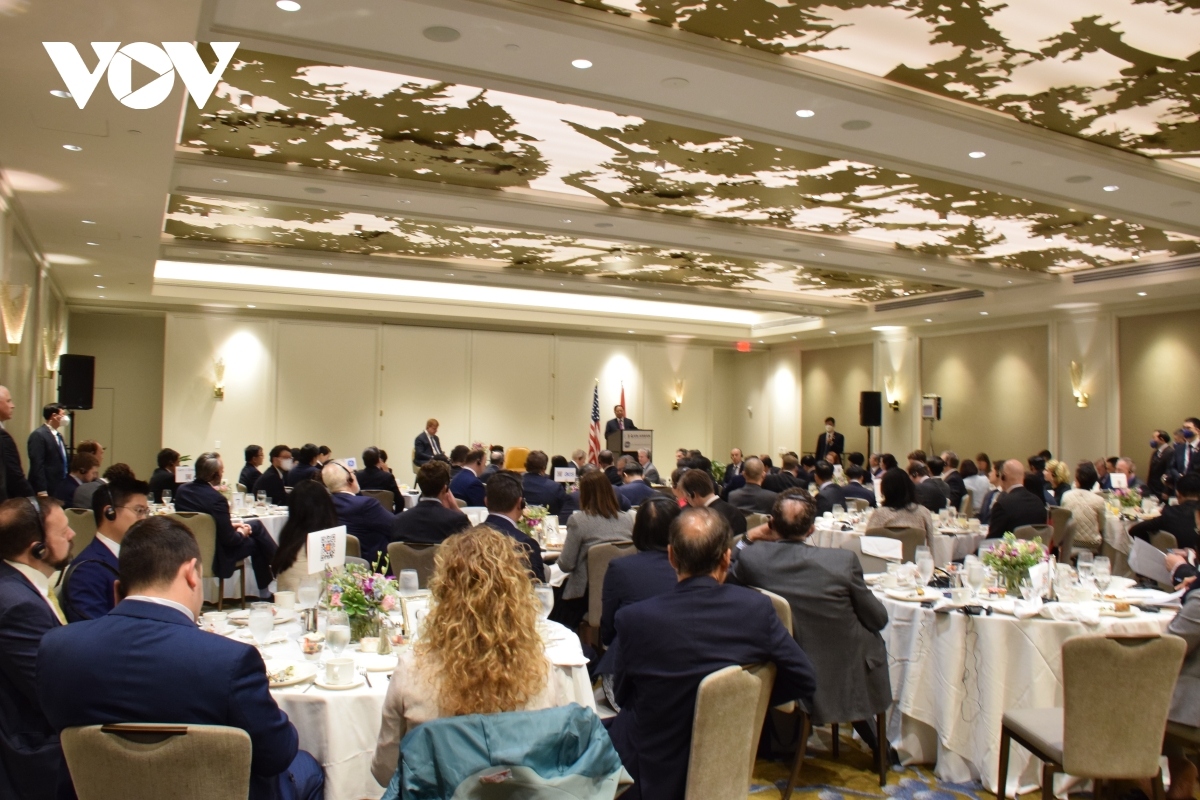 USABC President & CEO Ted Osius said US businesses consider Vietnam a strategic market and they follow Vietnam's development with keen interest, especially in the fields of digital transformation, green transformation, strategic infrastructure development among others.
Katherine Tai, chief of the United States Trade Representative (USTR), affirmed that Vietnam is one of the largest trading partners of the United States in ASEAN mirrored by the signing of the US-Vietnam trade agreement in 2001 and the Trade and Investment Framework Agreement (TIFA) in 2007.
As the US is keen on sustainable agriculture based on science and effective management, digital economy development and support for small and micro businesses, it wishes to cooperate with Vietnam in these fields, said Tai.
In his speech, PM Pham Minh Chinh emphasized that the Vietnam – US relations have reached an important milestone after 27 years of diplomatic normalization.
Vietnam always considers the US an important partner, and the business communities of the two countries play a very important role in fostering bilateral cooperation, especially in investment and finance, he said.
According to the PM, the annual impressive bilateral trade growth of 17-20% in recent years proves the two countries have ample room for economic development. Vietnam is the largest trading partner of the US in ASEAN while the US is Vietnam's second largest trading partner.
Noting that the two economies are highly complementary, Chinh said they still have a lot of work to do to bring more benefits to their peoples and businesses.
He briefed US businesses on Vietnam's recent socio-economic development achievements, saying the country shifted to the strategy of living safely with COVID-19 and secured impressive 5.03% GDP growth in quarter 1, 2022.
It is now focusing on transport infrastructure development, climate change response, digital transformation, pandemic control, health and education infrastructure, administrative reform and the building of a socialist-oriented market economy.
Vietnam strives to become a developing economy with developed industry by 2025, a developing economy with modern industry and high middle income by 2030, and a high-income economy by 2045.
To achieve the goal, Vietnam continues to build an independent, self-reliant, proactive economy, and integrate into the world deeply, substantively and effectively, and it hopes the US and other important partners, especially American businesses, support Vietnam in this regard.
The PM stressed Vietnam consistently implements its ongoing foreign policy of independence, self-reliance, multilateralization and diversification of foreign relations for peace, friendship, cooperation and development. It always strives to be a friend, a reliable partner and an active and responsible member of the international community. Cooperation is based on sincerity, trust and responsibility in the spirit of harmonious benefits and shared risks.
"I am willing to have dialogue with anyone in the world about Vietnam's economy, democracy and human rights," he affirmed.
During the meeting, Chinh answered questions related to digital transformation, implementation of Vietnam's COP26 commitments, and pandemic prevention which he said are of global issues and need global approach.
With regard to the new Indo-Pacific economic mechanism, Chinh assured that Vietnam is ready to work alongside the US to concretize the contents of this mechanism, including issues relating to the supply chain, digital transformation, climate change response, tax and labour.
In addition, the PM spoke of Vietnam's continued support for the US search for personnel missing in action during the war in Vietnam. He expressed hope the US would continue to help Vietnam overcome the consequences of the past war, including searching for the remains of martyrs, dealing with the consequences of toxic chemicals, and removing unexploded ordnance (UXO) in former battlefields.
PM Pham Minh Chinh is in Washington DC for a May 11-17 working trip to the US at the invitation of President Joe Biden. He is scheduled to attend a special summit between ASEAN and the US hosted by President Biden to mark 45 years of the relations between the two sides.