Vietnam attends IAEA Board of Governors meeting
21:44 07/06/2022
The Board of Governors of the International Atomic Energy Agency (IAEA) is holding a regular meeting from June 6 – 10 with the participation of representatives of 35 member countries and international organizations as observers.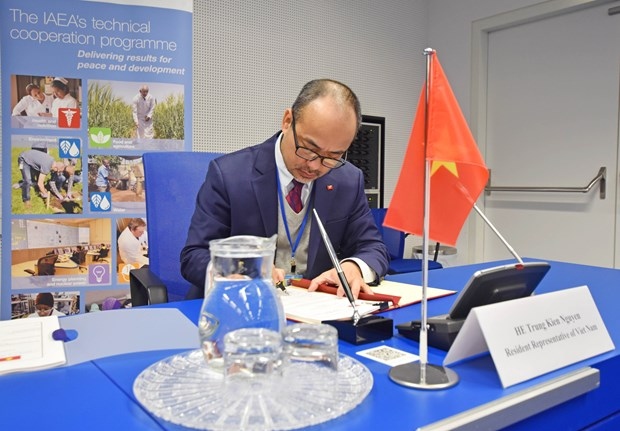 In his opening speech, IAEA director general Rafael Mariano Grossi said the COVID-19 pandemic, climate change and the energy crisis have affected the IAEA's security, safety, nuclear inspections and technical cooperation activities.
Grossi particularly warned about the risk of nuclear safety and security at the Zaporizhzhia nuclear power plant in Ukraine in the context that the plant is being controlled by Russia, and the Ukrainian government announced the loss of control over nuclear material.
Over the past year, the IAEA has made every effort to ensure the implementation of its tasks as planned, notably the implementation of more than 3,000 inspection activities in various areas globally, he said.
He affirmed that nuclear energy brings important benefits through providing clean energy sources, reducing carbon waste, and responding to climate change, among others.
In addition to the achievements, Grossi also expressed concern that the development of new nuclear technologies may pose challenges concerning nuclear proliferation, as well as ensuring security and safety for nuclear infrastructure.
Addressing the meeting, Vietnamese Ambassador Nguyen Trung Kien highlighted the country's policies and efforts in ensuring nuclear safety and security and the application of atomic energy for peaceful purposes and sustainable development.
He affirmed that the promulgation of Decree 81 in 2019 on prevention and control of weapons of mass destruction has created a legal corridor for preventing the proliferation of these weapons.
Vietnam values the IAEA's central role in these efforts, and together with other member countries it shares voices and interests in the potential of new technologies for small modular reactors (SMR), transportable nuclear power plants (TNPP) and floating nuclear power plants (FNPP), as well as assessments of their challenges to the international legal framework, and consequences for the environment, said Kien.
The Ambassador asserted that the research, development, licensing, operation and deployment of those new nuclear technologies should be considered carefully, with a legal framework be formulated soon in accordance with international law.
He voiced Vietnam's support for the IAEA's leading role in this process with the participation of all member states.
On this occasion, the Ambassador suggested that the IAEA continue to support member countries, especially developing countries, in improving their capacity in atomic research and application, response to radiation and nuclear incidents, and in perfecting the domestic legal framework on nuclear law.