Vietnam, Cuba seek to enhance efficiency of Inter-Government Committee mechanism
19:38 21/09/2021
Vietnamese Minister of Construction Nguyen Thanh Nghi and Cuban Minister of Foreign Trade and Investment Rodrigo Malmierca Díaz, co-chairs of the Vietnam-Cuba Inter-Government Committee, had a working session in Havana on September 20 to seek ways to strengthen partnership between the two countries.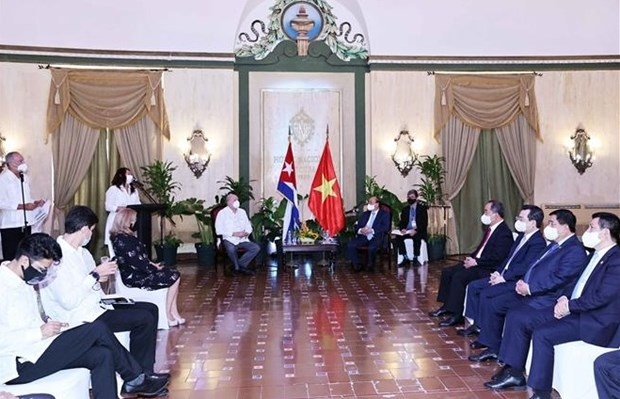 Both sides reaffirmed that they will work closely together to hasten ministries and sectors of the two countries to implement high-level agreements reached by President Nguyen Xuan Phuc and President Miguel Díaz-Canel Bermúdez, while fostering their collaboration in all fields to match the sound relations between Vietnam and Cuba.

Concluding the session, Minister Nghi symbolically handed over to Minister Rodrigo Malmierca 5,000 tonnes of rice as gifts from the Vietnamese State and people to the Cuban people, along with 1,000 tonnes of rice presented by Vietnamese construction enterprises.

The two ministers also witnessed the signing of two memoranda of understanding between Cuban tourism firms Gran Caribe and Cubanacán and Vietnam's City Land real estate company on cooperation in forming two joint ventures in construction and hotel, as well as a solar power purchase deal between Thai Binh company and Cuban state-owned power company Unión Eléctrica (UNE).

Earlier, Rodrigo Malmierca Díaz had a meeting with Vietnamese Minister of Planning and Investment Nguyen Chi Dung and Minister of Industry and Trade Nguyen Hong Dien, during which the ministers sought ways to promote bilateral trade and investment ties in the future.

The Vietnamese side suggested that Cuba design preferential policies and create favourable conditions for Vietnamese businesses to invest in the country. Minister Rodrigo Malmierca Díaz underlined Cuba's wish to promote economic, trade and investment cooperation with Vietnam.

Both sides shared belief that the Vietnam-Cuba economic and trade ties will be further bolstered in the time to come with more practical outcomes.

Vietnam will continue to consolidate its position as the largest investor from the Asia-Oceania region in Cuba and provide products of Cuba's demand such as consumer goods, footwear, garments and construction materials. Meanwhile, Cuba wishes to export more products of its strength to Vietnam, including pharmaceuticals, biotechnology products and medical services.