Vietnamese cabinet leader meets with Presidents of Brazil, Ukraine
Chủ Nhật, 21/05/2023, 21:07
Prime Minister Pham Minh Chinh on May 21 held separate meetings with Brazilian President Luiz Inácio Lula da Silva and President of Ukraine Volodymyr Zelensky, on the occasion of his attendance at the G7 expanded Summit in Hiroshima.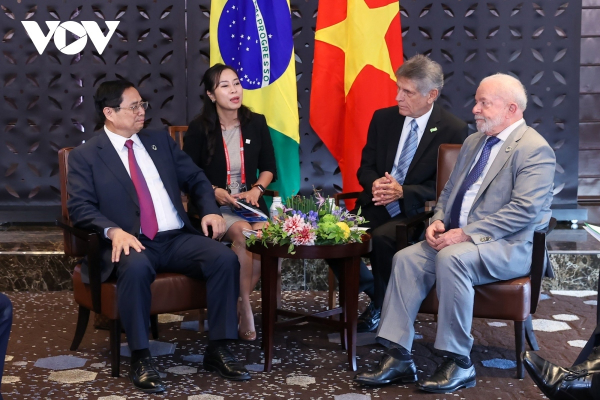 At their meeting, PM Chinh and the Brazilian President expressed their delight to see the good progress of bilateral relations over the past time, particularly since both nations' trade being maintained a rapid growth momentum. For years, Brazil has been Vietnam's largest trading partner in Latin America, with trade turnover in 2022 hitting a record US$6.78 billion.
Chinh conveyed greetings of Party General Secretary Nguyen Phu Trong, President Vo Van Thuong, and National Assembly Chairman Vuong Dinh Hue to President Lula da Silva.
He affirmed Vietnam's recognition of importance to and wishes to enhance the comprehensive partnership with Brazil, one of its leading important partners in the region.
Vietnam called on Brazil to support and accelerate the early start of negotiations for a free trade agreement between Vietnam and the South American Common Market (MERCOSUR).
Both sides will boost closer coordination and offer mutual support at international organisations and multilateral forums, especially at the United Nations, the World Trade Organization (WTO), and other multilateral forums to which the two sides are members. Vietnam stays read to serve as a bridge to boost the relationship between ASEAN and Brazil, and between ASEAN and MERCOSUR.
President Lula da Silva thanked the greetings of Vietnamese leaders and expressed admiration for the unyielding will of Vietnam and Vietnamese people. He also congratulated Vietnam on its achievements in socio-economic recovery and development.
President Lula da Silva agreed with the proposals given by PM Chinh, especially on supporting the early start of negotiations for a free trade agreement between Vietnam and MERCOSUR. 
The President suggested the two nations continue to bolster practical cooperation in all aspects, especially in trade, agriculture, people-to-people exchanges, and coordination at international organisations and multilateral forums.
On this occasion, PM Chinh conveyed the invitation of Vietnamese leaders to President Lula da Silva for a revisit to Vietnam. The President of Brazil accepted the invitation with pleasure.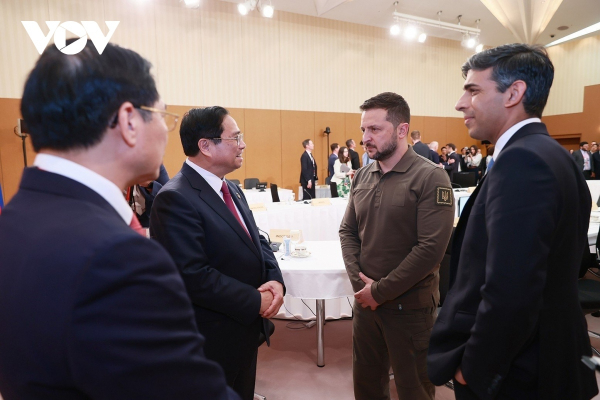 On the same day, at the G7 expanded Summit's working session "Towards a Peaceful, Stable and Prosperous World", PM Chinh had a brief meeting with Ukrainian President Volodymyr Oleksandrovych Zelensky.
At the meeting, the Vietnamese Government leader stated that that Vietnam places importance to the traditional friendship and cooperation between the two countries.
Regarding the current conflict in Ukraine, the PM affirmed that Vietnam's unwavering stance is to respect the United Nations Charter and international law, especially the principles of respecting independence, sovereignty, territorial integrity, and sovereignty, non-interference in internal affairs, no use of force and threats to use force, and all disputes should be resolved by peaceful means.
As a country that has experienced many wars, Vietnam understands the value of peace, Chinh stressed.
Vietnam has provided humanitarian support to the Ukrainian people and is ready to assist involved parties in finding a lasting peaceful solution based on international law and respecting the legitimate interests of the parties.
He expressed his gratitude to the Government of Ukraine for supporting the Vietnamese community in Ukraine.
President Zelensky agreed with PM Chinh, expressing his appreciation for Vietnam's stance and humanitarian support, and concurred to take measures to further push up bilateral cooperation between the two nations in the time ahead.