WB pledges continued support for Vietnam's future development
Thứ Ba, 19/07/2022, 10:38
The World Bank will continue to accompany the Government of Vietnam on its future development path to address strategic issues such as healthcare capacity, disease control and climate change adaptation, along with financial assistance.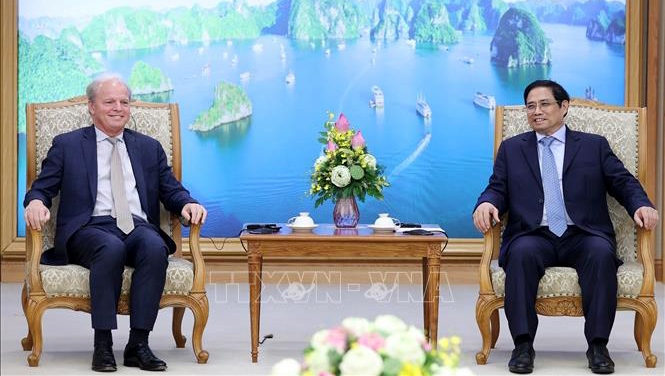 World Bank Managing Director of Operations Axel van Trotsenburg made the commitment at a reception hosted by Vietnamese Prime Minister Pham Minh Chinh in Hanoi on July 18.
Van Trotsenburg highly appreciated Vietnam's pandemic control and economic recovery efforts, saying that the World Bank has studied the Vietnam case, and that Vietnam can share its practical lessons with other countries, while contributing to solving many other global problems such as food security.
He acknowledged PM Chinh's proposals, including the bank's continued assistance to Vietnam's green growth model, climate change adaptation, human resource training and energy conversion.   
He suggested that the two sides work closely to review and update the National Strategic Partnership Framework for 2022 - 2025 in order to identify support resources and priority areas of the two sides.
The World Bank is ready to send a team of global experts and the World Bank Vietnam Office to support the Government in developing the Vietnam 2045 Report, aiming to build Vietnam into a developed and high-income country by 2045, he told PM Chinh.
Van Trotsenburg agreed with the Prime Minister's view on the global approach that focuses on upholding international cooperation and multilateralism, in the spirit of sincerity, trust and efficiency, along with solutions tailored to each country's characteristics to solve current emerging problems such as epidemics, climate change and non-traditional security issues.
For his part, PM Pham Minh Chinh expected that the World Bank would continue to support Vietnam in developing strategic infrastructure, promoting sustainable development, green growth, climate change combat, and especially in putting forward perfect policies to build an independent, self-reliant economy to withstand external shocks, while proactively integrating into the world.
He affirmed that Vietnam is responsibly and actively joining the international community in responding to climate change with an approach that ensures fairness and justice.
This is one of the key, urgent tasks and also an opportunity to transform the development model, and build an energy transition industry towards a green, sustainable, circular, and low carbon economy, he said.