4 young police officers win Da Nang city's Meaningful Youth Engagement Award 2021
21:01 18/10/2021
The Vietnam Youth Union (VYU) Committee of Da Nang city granted the 2021 Meaningful Youth Engagement Award to 65 outstanding young people, including four police officers.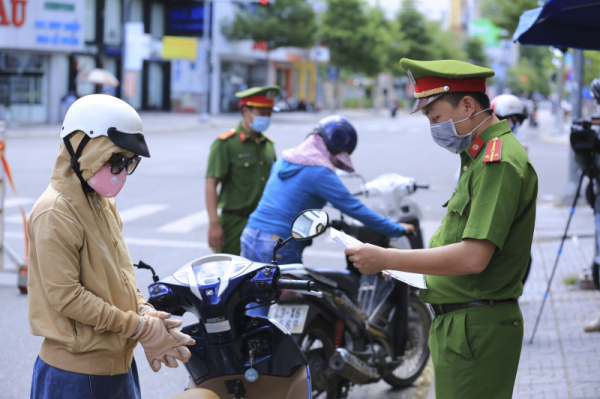 The award contributes to encouraging the engagement of Da Nang young residents in meaningful activities for the community as well as honoring good examples of young people who have made large contributions to the city's development.
Among the awardees, there are four young officers of the city's police, namely Lieutenant Pham Tu Luc, Lieutenant Vo Si Hoang Tung, Senior Lieutenant Le Duy, and Lieutenant Tran Van Dung.
* Lieutenant Pham Tu Luc is a policeman in Hoa Ninh commune in Hoa Vang district of Da Nang. He worked at pandemic checkpoints during the COVID-19 pandemic.
He and his team detected and handled various cases of violating the pandemic prevention regulations in the locality.
Luc also mobilized individuals and organizations to offer gifts to 10 poor families in his managed commune. Particularly, on August 27, Lieutenant Luc and local medical workers promptly helped a pregnant woman deliver her baby at her residence in An Son village which is far from the hospital.
*Lieutenant Vo Si Hoang Tung is an officer at the Da Nang Police Logistics Division who participated in conducting SARS-CoV-2 screening tests and took COVID-19 patients to concentrated quarantine zones.
Additionally, he joined the city's Police Women's Union to visit and give gifts to quarantine checkpoints and poor families in the city. Tung also voluntarily came to Ho Chi Minh City to support the local medical sector to run the T30 Field Hospital.
*Senior Lieutenant Le Duy is a police officer at the Da Nang Municipal Police Department who was sent to Hoa Minh ward of Lien Chieu district to reinforce local police in fighting the COVID-19 pandemic.
He regularly donated his blood to patients at local hospitals as well as mobilized his colleagues to participate in blood donation drives. Senior Lieutenant Duy also called for about VND 580 million to buy medical supplies and foodstuffs for anti-pandemic frontline forces and needy locals.
* Lieutenant Tran Van Dung, Deputy Secretary of the Da Nang Fire and Rescue Police Division's Youth Union chapter, contributed positively to promoting youth movements in the locality.
He mobilized Youth Union members to donate their blood to hospitals as well as offered gifts, worth VND 55 million in total, to poor people during the COVID-19 pandemic.