Deputy Minister Le Quoc Hung attends year-end conference of Phu Yen Police
09:12 25/12/2020
PSNews – The Phu Yen Provincial Police Department held a conference on December 22 to sum up their task performance in 2020, roll out their working plan for 2021 and to review the results of the project to build the provincial communal police force.
Major General Le Quoc Hung, Deputy Minister of Public Security, attended the event. The conference also saw the participation of leaders of Phu Yen province and units under the Ministry of Public Security.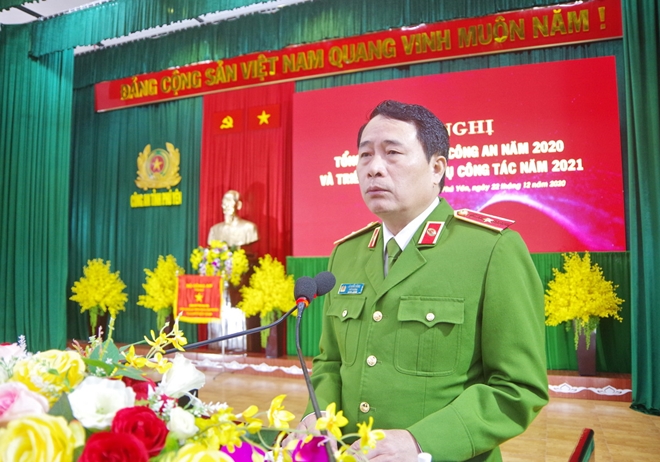 Deputy Minister Le Quoc Hung speaks at the event.
Reports delivered at the event read that the Phu Yen Police advised local party committees and authorities on measures to promote the movement "All people protect the national security" in 2020, contributing to firmly maintaining security and social order.
The unit took synchronous and effective measures to combat crimes, thoroughly grasped and controlled the situation and defeated all conspiracies of hostile forces.
In 2020, the Phu Yen police implemented various plans to ensure absolute safety for political events taking place in the province, especially the Provincial Party Congress for the term of 2020-2025, and participated in the fight against COVID-19.
The Phu Yen police also made a big success in the fight against crimes, law violations, and social evils. Particularly, the local police force resolved 400 cases of economic crime, trade fraud, corruption and environmental crime, and destroyed several criminal gangs, including those involved in property theft, "black credit".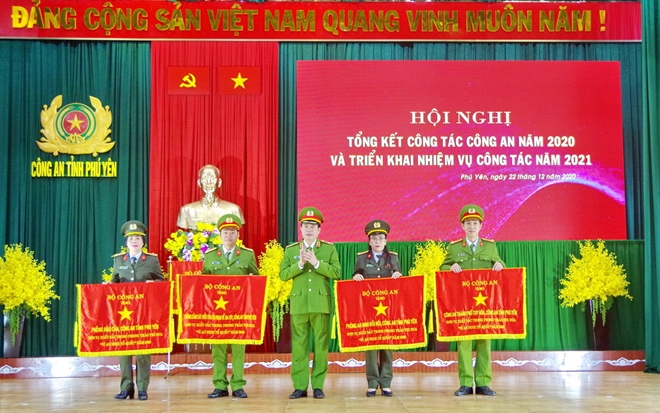 Deputy Minister Le Quoc Hung presents emulation flag of the Ministry of Public Security to several colletives of the Phu Yen Police.
The local police's excellent working results have highly been appreciated by the local Party committees, authorities, and people. Many officers and subunits of the Phu Yen Provincial Police Department have been awarded with honors, certificates of merit and emulation flags by the Ministry of Public Security and local authorities.
Speaking at the conference, Deputy Minister Le Quoc Hung recognized and praised the efforts and results gained by the Phu Yen Provincial Police.
The Deputy Minister requested them to thoroughly grasp and implement resolutions and directions of the Public Security Central Party Committee, the Ministry of Public Security on the tasks of protecting national security, ensuring social order and safety.
According to the Deputy Minister, in the coming time, the Phu Yen provincial police should continue reviewing and developing their working plans in order to better solve issues related to political security, social order and safety. He also asked the unit to ensure safety and order during the upcoming 13th National Party Congress.