Deputy Minister Le Quy Vuong hosts year-end meeting with retired senior public security officers
18:49 13/01/2021
On the occasion of the upcoming Lunar New Year festival, Senior Lieutenant General Le Quy Vuong, Member of the Party Central Committee and Deputy Minister of Public Security, chaired a meeting with retired high-ranking public security officers, who live in Hanoi and other northern provinces.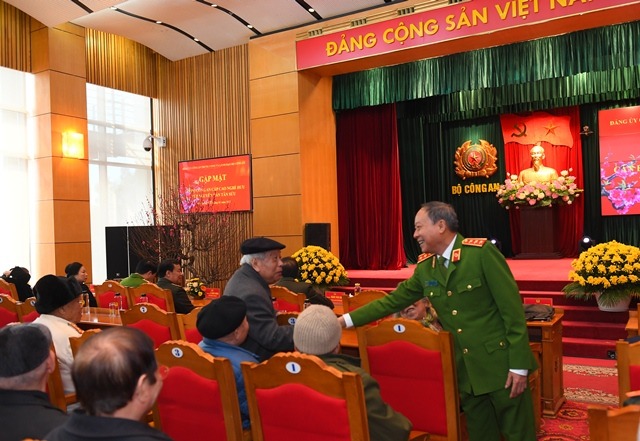 Deputy Minister Le Quy Vuong extends New Year greetings to the delegates to the meeting.

The Deputy Minister briefed the delegates about political security, social order and safety situations in the country, as well as results of the task performance of the Public Security Forces in 2020. He affirmed that, thanks to the sound leadership of the Party and State, the close coordination of the People's Army and other sectors, and the effective support of all people, the Public Security Forces have successfully fulfilled their tasks.
On behalf of the Ministry of Public Security's leadership, Deputy Minister Le Quy Vuong wished all retired senior officers and their families good health and happiness. He also wished that the Ministry of Public Security would receive more support from the retired officers to build strong, professional, elite, and gradually modernized Public Security Forces.
Earlier, Deputy Minister of Public Security, Senior Lieutenant General Nguyen Van Thanh led a delegation to visit and extend New Year greetings to families of former leaders of the Ministry of Public Security, including late Deputy Ministers Tran Van Quyet, Nguyen Van Duc and Pham Quy Ngo.
At the meetings, Deputy Minister Nguyen Van Thanh extended best wishes to the families of the former MPS leaders and expressed his gratitude for their contributions to the ministry.