Deputy Minister Le Tan Toi meets voters in Long An's Duc Hue district
15:15 07/05/2021
Major General Le Tan Toi, Member of the Party Central Committee, on May 6 met with voters in Duc Hue district, Long An province.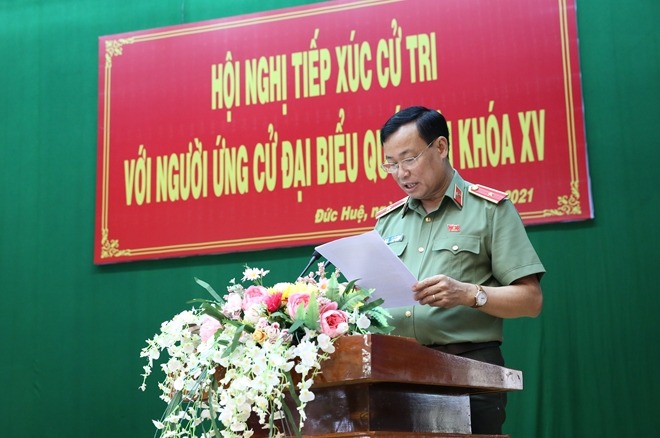 Deputy Minister Le Tan Toi speaks at the event.
Major General Le Tan Toi was accompanied by the province's candidates for the 15th National Assembly (NA).
The delegation of the province's NA candidates met with some 250 voters residing in Binh Hoa Nam, My Thanh Dong, Binh Hoa Bac communes and Dong Thanh township.
At the meeting, voters expressed delight at the achievements of the country in socio-economic development over the past time, and showed their consensus with the policies of the Party and State which always prioritize interests of the people first.
In addition to the nation's development, the Government has strong resolve to prevent the COVID-19 pandemic, which has been acknowledged by voters.
Voters strongly agreed with the action programs of the NA candidates. They expressed their hope that the high-quality candidates will be elected so that their deputies can voice the desires of the people of Duc Hue district in particular and Long An in general at the NA.
On behalf of the 5 candidates, Deputy Minister Le Tan Toi expressed his respect for the constructive and objective comments of the voters as well as their thought for the candidates.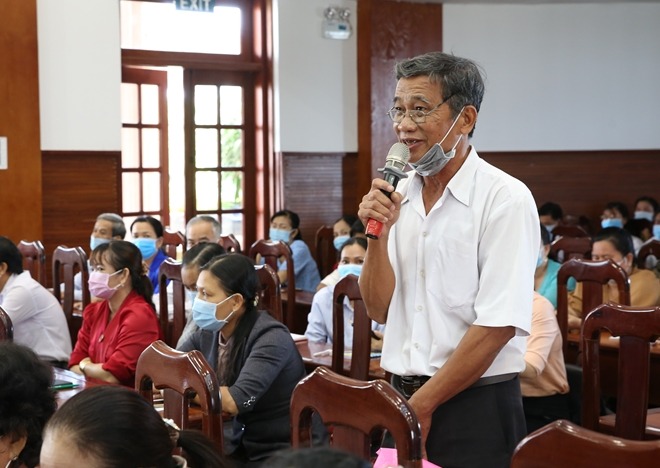 A voter speaks at the meeting.
On the same day, Deputy Minister Le Tan Toi and the NA candidates of the province also met with 150 voters in My Quy Tay, My Quy Dong, My Thanh Bac communes.
On the schedule, he will have other meetings with voters in Duc Hoa and Ben Luc districts in the coming days.