Deputy Minister Nguyen Duy Ngoc inspects e-ID card issuance work in South Central provinces
20:34 26/03/2021
Lieutenant General Nguyen Duy Ngoc, Member of the Party Central Committee, Deputy Minister of Public Security, on March 25, led a delegation to visit Khanh Hoa and work with six South Central provincial police on population database project and e-ID card project.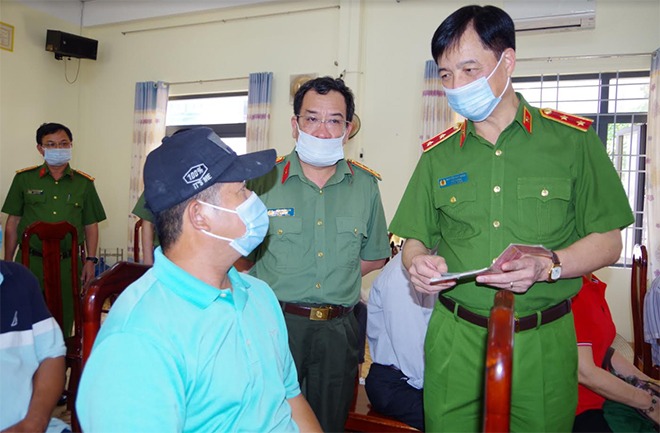 Deputy Minister Nguyen Duy Ngoc inspects issuance of chip-based ID cards in Nha Trang.

Deputy Minister Nguyen Duy Ngoc and his delegation visited and checked the process of issuing e-ID cards conducted by a mobile e-ID card issuing team in Vinh Nguyen ward, Nha Trang city. Deputy Minister Ngoc applauded the efforts of the local police in the process of issuing e-ID cards, ensuring efficiency and prevention of COVID-19 pandemic.
He also inquired after and answered questions raised by local people over the new e-ID cards, and encouraged the policemen to manage to overcome their difficulties to fulfil the given tasks.
After the inspection, the deputy minister had a meeting with leaders of the police departments of 7 South Central provinces, namely Khanh Hoa, Binh Dinh, Phu Yen, Ninh Thuan, Binh Thuan, Ba Ria Vung Tau and the Southern province of Tay Ninh.
At the meeting, police chiefs of the provinces briefed the deputy minister and his entourage on the implementation of the chip-based ID card project in their localities. They discussed their difficulties and challenges and shared their working experience in implementing the project.
Deputy Minister Nguyen Duy Ngoc asked all local police units to focus on their major tasks, including building a roadmap to complete the national database system on population and electronic chip ID card issuance.
He also urged the police units to mobilize their forces and means for the issuance of ID cards in accordance with local situations. In addition, leaders of all police units should raise their sense of responsibility for the work by enhancing inspection and supervision of their subordinates' implementation of the two projects.