Deputy Minister Tran Quoc To meets voters of Yen Phong district, Bac Ninh
19:53 15/05/2021
The Fatherland Front Committee of Bac Ninh province held an online meeting with voters of Yen Phong district on May 14.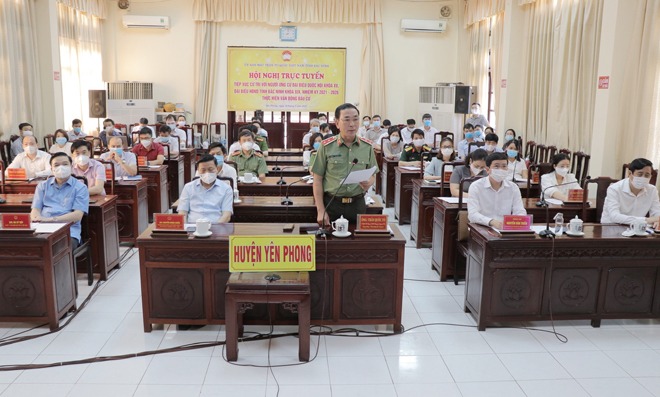 Deputy Minister Tran Quoc To speaks at the event.
Lieutenant General Tran Quoc To, Deputy Minister of Public Security, was among the province's NA candidates to participate in the meeting via video conferencing with voters of Yen Phong district.
Deputy Minister Tran Quoc To briefed voters on his action program and expressed his delight at being nominated as candidate for the NA. He emphasized that he will try his best to perform the responsibilities of the NA member if he is elected.
The deputy minister also committed that as a Public Security Ministry's leader, he would actively advise the higher levels on policies related to ensuring national security and social order and safety, building strong and elite Public Security Forces.
Voters of Yen Phong district expressed support for the action plans and agreed on the resumes of the candidates.
At the same time, they also expressed their hope that the candidates, if elected, will fulfill their promises and commitments, seek approaches to solve issues
of great concern such as: medical insurance regimes for military veterans.