Minister To Lam: National population database, e-ID card system must be safe and secure
21:03 30/06/2021
Politburo Member and Minister of Public Security General To Lam on June 29 chaired a meeting of the Steering Committee for the projects on the national population database and on the making, granting, and management of chip-based ID cards (e-ID cards).
The event was also attended by Lieutenant General Nguyen Duy Ngoc, Deputy Minister of Public Security and Standing Deputy Head of the Steering Committee, among other members of the Steering Committee and leaders of relevant units.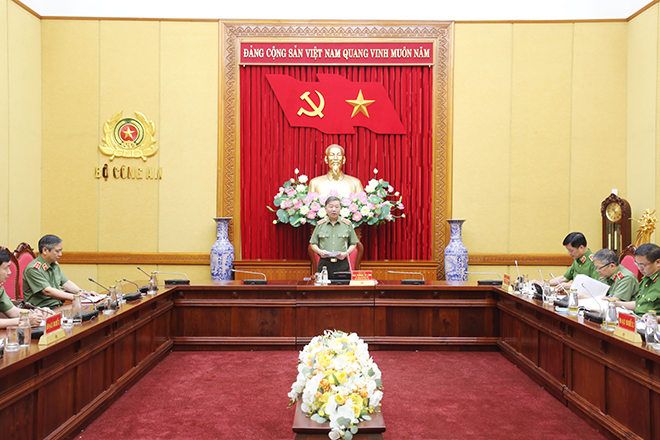 Minister To Lam delivers a keynote speech at the meeting.
According to reports presented at the meeting, the Police Department for Administrative Management of Social Order (PDSOM) has directed the local police units to review and process the personal information files of 98,560,038 citizens (or 95.8%) on the National Population Database.
By June 18, the MPS had issued identification numbers to 98,560,038 citizens nationwide based on the processed data, serving as an important basis for establishing citizens' electronic identity, contributing to the national digital transformation.
Regarding online public services, by June 18, the PDSOM had received and processed 4,267 dossiers. From July 2021, the department will officially connect the citizen identity authentication service with the provincial networks that have fully been completed and checked for information security and safety.
To conclude the meeting, Minister To Lam asked the relevant units to accelerate the projects. He also noted that processing data and granting e-ID cards to all citizens should be considered a regular and continuous task. All local police units should set specific targets and deadlines for them, the Minister added.
The PDSOM should bear the responsibility for connecting the National Population Database with ministries, sectors, and local authorities in accordance with the regulations, but it must check for information safety and network security before any connection.
The department should also pay attention to researching and building a digital identity authentication system on the database while completing the legal corridor for the operation of the two systems.