Minister To Lam attends great national solidarity festival in Cao Bang
Chủ Nhật, 15/11/2020, 20:13
General To Lam, Politburo Member and Minister of Public Security, joined the great national solidarity festival in Lung Nam commune, Ha Quang district the northern mountainous province of Cao Bang, on November 14.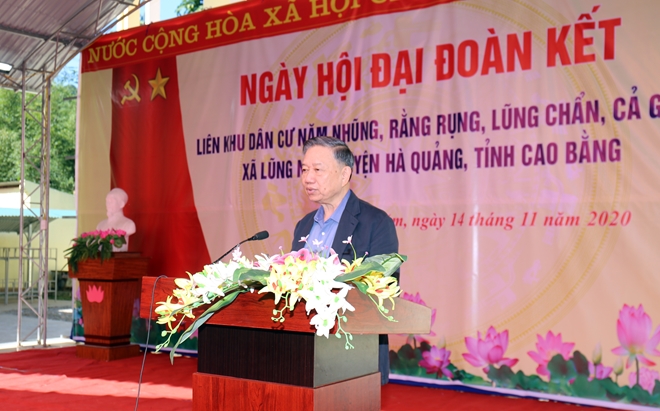 Minister To Lam speaks at the event.
The event also saw the presence of Mr. Lai Xuan Mon, Member of the Party Central Committee and Secretary of the Provincial Party Committee, Mr. Phung Khanh Tai, Vice President of the Central Committee of the Fatherland Front of Vietnam (VFF), and local people from all walks of life.
Speaking at the event, Minister To Lam emphasized that the presence of many local people at the festival demonstrated the great significance of the local unity bloc.
Minister To Lam requested the Party committees, authorities and mass organizations of Cao Bang province, Ha Quang district as well as Lung Nam to further cement the solidarity bloc and fulfil all political, economic, cultural and social tasks.
He also hoped that local residents would preserve and develop their cultural identities and good traditions and enhance solidarity, contributing to the development of the commune and the province.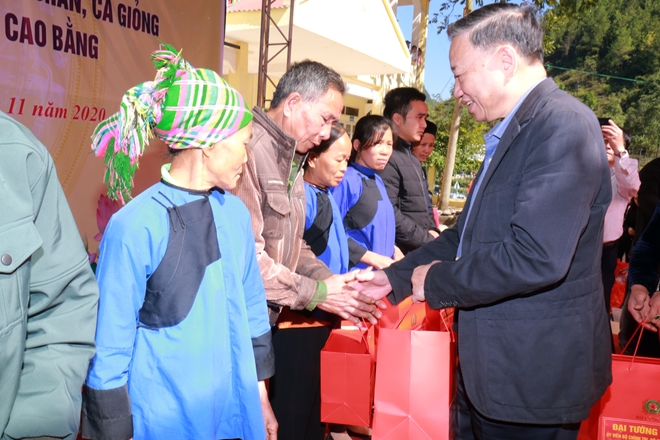 Minister To Lam presents gifts to local people.
On this occasion, Minister To Lam presented gifts to 4 villages: Nam Nhung, Rang Rung, Lung Chan and Ca Giong of Lung Nam commune, as well as 10 needy or exemplary households.
The VFF Central Committee presented gifts to the villages, handed financial assistance to the local authority to build 20 houses of gratitude for 20 poor households, 20 gifts to 20 poor or exemplary families. Leaders of Cao Bang also presented gifts to the Lung Nam Border Guard Post and poor households.
Earlier, Minister To Lam visited and offered incense at the Temple in dedication to President Ho Chi Minh at the Pac Bo Historical Relic, Truong Ha commune, Ha Quang.