Public Security Forces asked to take initiative in responding to Storm No. 12
10:20 10/11/2020
The Office of the Ministry of Public Security (MPS) on November 9 issued and sent a dispatch requiring all relevant public security units to proactively respond to storm No. 12.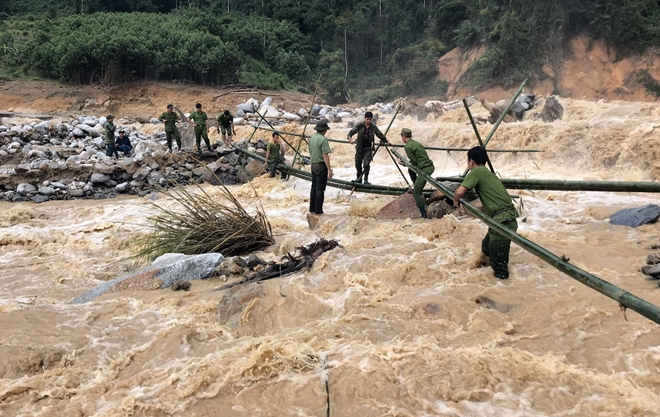 Photo for illustration.
The dispatch was sent to the Steering Committee for Climate Change, Natural Disaster Prevention and Control, and Search and Rescue under the Ministry of Public Security, the police departments of coastal provinces and cities from Quang Ninh to Kien Giang as well as Central Highlands provinces. The dispatch was also sent to the Mobile Police Command, the Police Department of Fire and Rescue, the Traffic Police Department, and the Police Department of Prison, Correctional Institution and Juvenile Reformatory Management.
The dispatch reads:
To effectively respond to the looming storm, the MPS asks all above-mentioned units to:
- Strictly implement orders, dispatches issued by the Government, the Central Steering Committee for Disaster Prevention, the Office of the National Committee for Search and Rescue, as well as directions of the MPS and local authorities on responses to the Storm No. 8 and natural disaster relief.
- Closely monitor developments of the dangerous weather phenomena via the mass media to map appropriate responses to the situations.
- Increase dissemination of information about activities of police forces in response to dangerous weather phenomena and in support of disaster-hit people. Meanwhile, police units should ensure safety for their officers and soldiers on duty and in disaster relief missions.
- Ensure security and order in localities, and ensure safety for people and assets, deploy forces and means for rescue and relief missions upon requests, actively and promptly detect and handle anyone taking advantage of the disaster situations to make money. Coordinate with functional agencies to prevent and counter fake news.
- Proactively direct and implement search, rescue and disaster relief activities following the motor "Four on-spot forces" and in accordance with developments of the storm and specific situations in the locality.