Traffic police force reviews task performance in H1
21:20 05/07/2021
The Traffic Police Department under the Ministry of Public Security held an online conference on July 2 to review the task performance of the traffic police force in the first half of 2021(H1).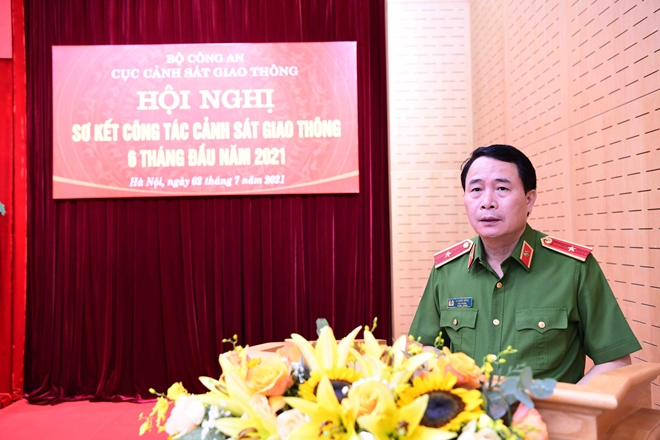 Deputy Minister Le Quoc Hung speaks at the event.
Major General Le Quoc Hung, Member of the Party Central Committee and Deputy Minister of Public Security, attended and delivered a speech at the conference.
Over the past 6 months, the traffic police force nationwide handled 1,733,203 cases of violating traffic safety on roads, railways, and inland waterways and fined over VND 1,717 billion in total.
They also revoked 167,761 driving licenses and occupation certificates and seized 298,008 vehicles of all kinds. Traffic police units, in coordination with other functional forces, dismissed 435 illegal motor races and disturbances in public places, arrested 2,470 people involved and seized 2,207 vehicles. Of them, 6 cases and 54 related people were prosecuted, and 2,416 other people in 429 other cases related were fined for their offences.
The traffic police force also coordinated with other forces to conduct patrols and checks, and detected 3,551 criminal, economic and environmental offenses and arrested 4,120 related people.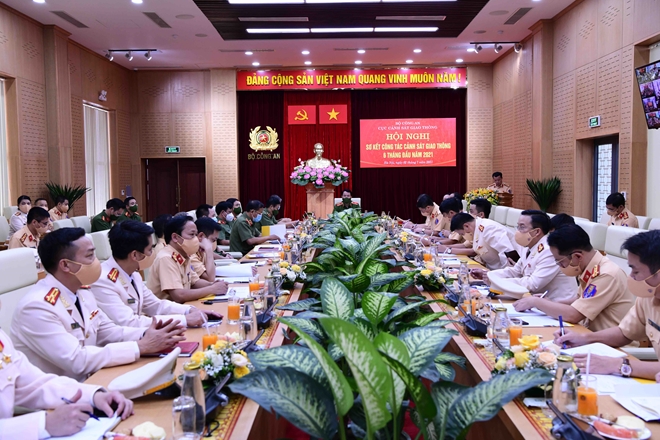 Delegates attending the event.
Speaking at the conference, Deputy Minister Le Quoc Hung recognized and praised the working results of the traffic police force over the past time.
He showed his consensus on the working plan set out by the Traffic Police Department for the force in the second half of 2021, saying that the Traffic Police Department should effectively perform its strategic advisory role in developing strategies to ensure traffic safety across the country. The force should also work out specific plans to respond to developments in the COVID-19 pandemic as well as to ensure traffic safety in the post-pandemic period.
The traffic police force should enhance digital transformation and apply information technology to management and maintenance of traffic safety on roads, railways, and waterways while quickly upgrading its databases on traffic accidents, traffic administrative penalties, and vehicle registration in order to synchronously connect with the national database on population, the Deputy Minister asked.