Communal police join hand to control COVID-19 in Thua Thien Hue
18:37 21/08/2021
PSNews – In recent times, the communal police force in Thua Thien Hue Province has implemented various measures to effectively prevent the spread of the COVID-19 pandemic and ensure security in locality.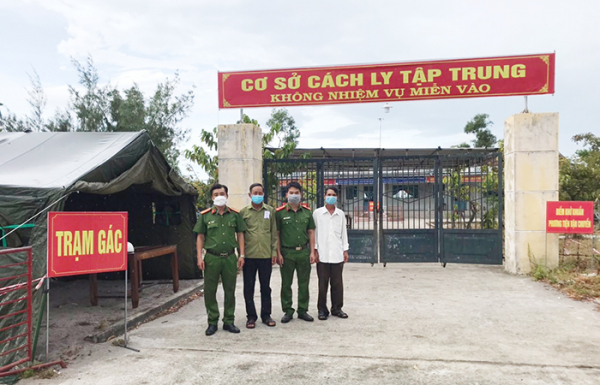 In the past, many residents of Quang Dien District left their homes for Ho Chi Minh City to earn their living. Since the latest COVID-19 outbreak, thousands of them have returned home. However, some people have not complied with the quarantine regulations, causing new COVID-19 cluster in the community.
In this context, the Quang Loi Commune police officers stuck a signboard in front of every self-isolated home with the starting date and ending date of isolation.
According to Lieutenant Colonel Vo Tien Thao, Head of the Quang Loi Commune Police Post, the local police are currently monitoring nearly 100 households with self-isolated people who had finished 14 days of quarantine at concentrated centers.
When Phong Dien Town, Phong Dien District detected the first COVID-19 cases in the community in the latest outbreak, the local police promptly advised the authority to set up 2 quick response teams and 6 community-based COVID-19 prevention teams to mobilize local people to prevent and control the pandemic.
Thanks to advice of the communal police force of Phong Dien District 138 community-based COVID-19 prevention teams in 16 communes and towns with over 1,000 members have been formed. These teams are bridges connecting local people with the Steering Committees, contributing to COVID-19 prevention and control.
Similarly, A Luoi mountainous district in Thua Thien Hue Province currently has 87 community-based COVID-19 prevention teams in 87 hamlets with the communal police as the core force.
Captain Huynh Van Quang, Head of the Quang Nham Communal Police Post, A Luoi District, said that 90% of the population of Quang Nham Commune is of the Ta Oi ethnicity.
When the pandemic broke out in Thua Thien Hue, the communal police force came to each household to give them information about measures to prevent COVID-19, and provided them with police hotline numbers.
According to the Thua Thien Hue Provincial Steering Committee for COVID-19 Prevention and Control, in the past few days, since the commune-level quarantine zones were put in operation, the entire communal police force has mobilized to work around the clock to control the pandemic and ensure local security and order.