Deputy Minister Le Quoc Hung pays pre-Tet visits to Ca Mau
Thứ Năm, 19/01/2023, 23:30
Deputy Minister of Public Security Lieutenant General Le Quoc Hung visited and worked with leaders of the Ca Mau Provincial Police Department, on January 16, 2023.
Reporting at the meeting, Director of the Ca Mau Provincial Police Department Senior Colonel Pham Thanh Sy said that the political security situation in Ca Mau province was maintained stable last year.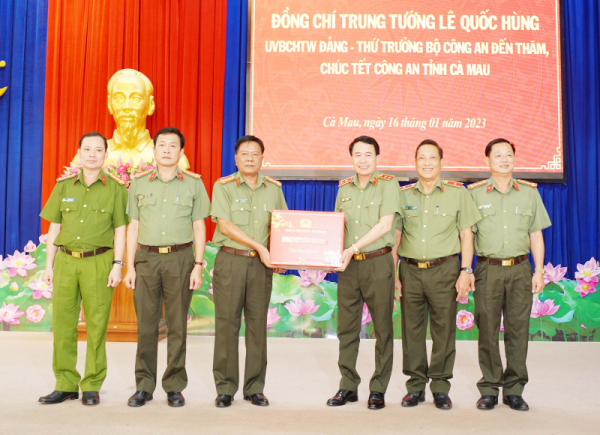 The crime rate related to social order decreased by over 6.5% compared to 2019 while the clearance rate was high. 
The traffic police deployed various patrol teams to ensure traffic order and safety around the clock and suppressed hundreds of cases of disturbances, robberies, illicit drug trafficking and traffic violations.
Speaking at the meeting, Deputy Minister Le Quoc Hung highly appreciated the results achieved by the Ca Mau provincial police in 2022, and wished all officers and soldiers of the provincial police would have good healthy and successfully complete the tasks entrusted by the Party, State and people.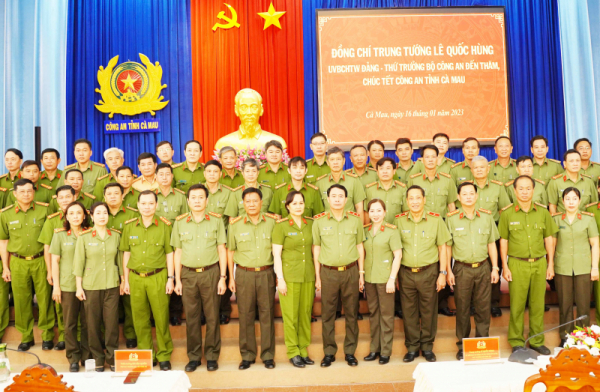 In the coming time, Deputy Minister Le Quoc Hung suggested that the Ca Mau Provincial Police Department should strictly implement Resolution 12-NQ/TW issued on March 16, 2022,by the Politburo on enhancing the building of pure, strong, regular, elite and modern People's Public Security Forces to meet the task requirements in the new situation while thoroughly grasping the situation, defeating all plots and sabotage acts by hostile forces.
* On the same day, Deputy Minister Le Quoc Hung visited the Cai Tau Detention Center in U Minh district, Ca Mau province.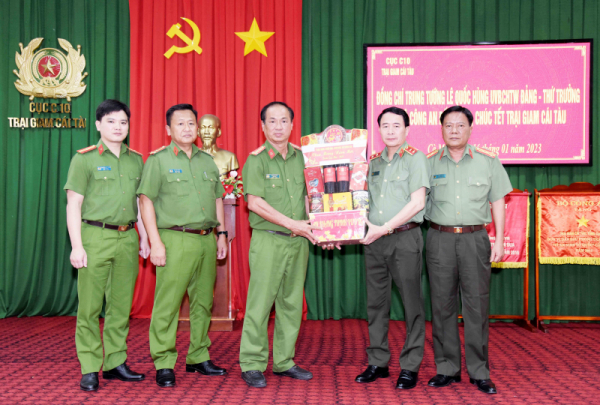 The Deputy Minister praised the staff of the prison for their efforts and achievements in the past time, and asked the unit to implement synchronously basic professional work measures, proactively prevented and promptly handled cases of inmates violating prison rules, but create favorable conditions for inmates to serve their sentences.
Deputy Minister Le Quoc Hung asked police officers and soldiers at Cai Tau Prison to pay attention to the regimes of food, clothing, accommodation, medical treatment, and vocational training for prisoners while strengthening the relationships with local Party committees, authorities and people to ensure security and order in the prison and locality as a whole..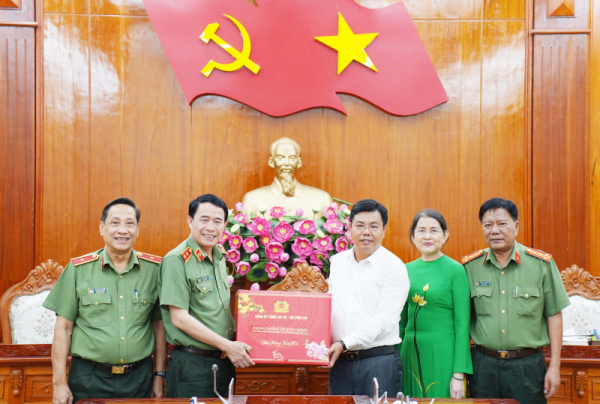 *Previously, Deputy Minister Le Quoc Hung visited and worked at the Provincial Party Committee, People's Council, People's Committee of Ca Mau province.