Deputy Minister Le Quoc Hung worked with An Giang police on COVID-19 prevention and control
14:45 03/08/2021
PSNews - Major General Le Quoc Hung, Deputy Minister of Public Security and Commander of the Ho Chi Minh City-based Interim Front Command of the Ministry of Public Security (MPS) on August 2 worked with the An Giang Provincial Police Department on prevention and control of COVID-19 in the province.
At the meeting, Senior Colonel Dinh Van Doi, Director of the An Giang Provincial Police Department, said that since the beginning of 2021, the provincial police forces have detected 66 cases with 208 people (including 59 foreigners) illegally entering and exiting the country through local border crossing paths and openings.
The provincial police, in coordination with the Border Guard and military forces, have set up many patrol teams to control illegal border crossings in an effort to prevent the spread of the pandemic into the country.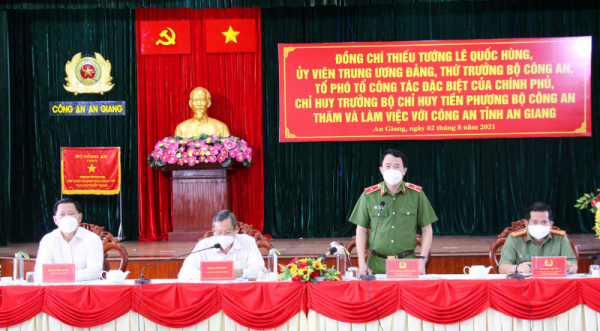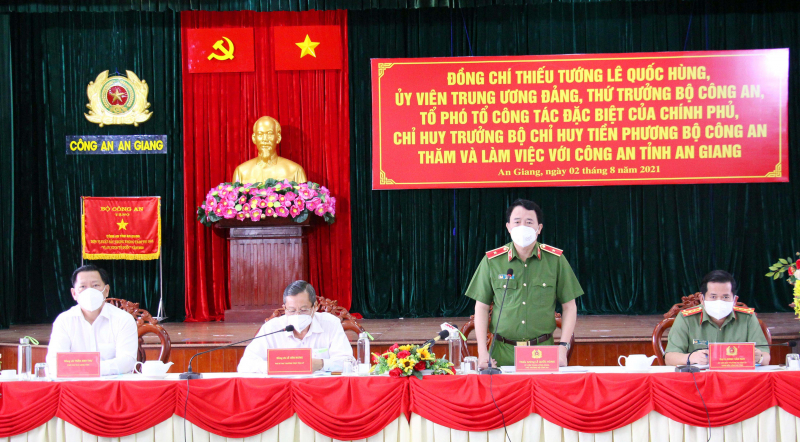 At the meeting, Deputy Minister Le Quoc Hung speaks highly of An Giang police's contribution to the local fight against COVID-19.
Deputy Minister Le Quoc Hung stressed, the COVID-19 pandemic situation has seen complicated developments throughout the country. For An Giang, it is even more complicated when the province has a high population density and a long borderline. As the flood season is coming, the pandemic prevention and control effort in the locality will face many difficulties.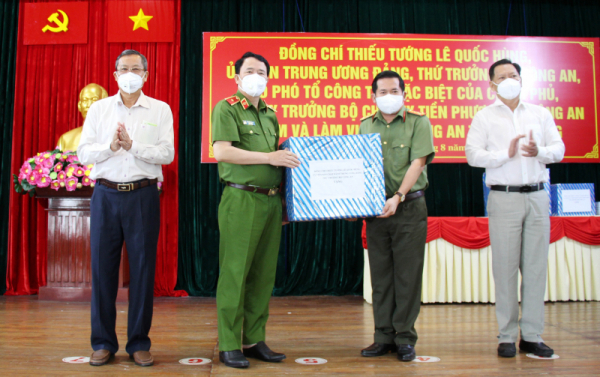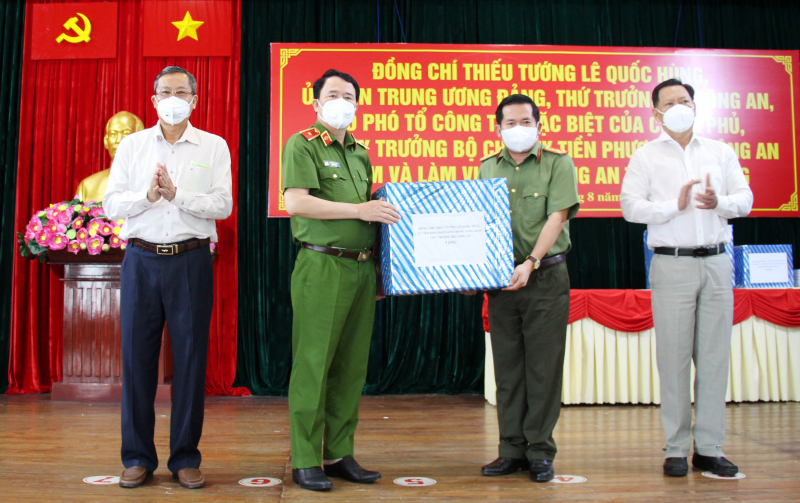 Therefore, the MPS leader asked the An Giang provincial police to take more drastic and creative measures to maintain "safe zones" and strive to stamp out the disease in "red zones" (pandemic-hit areas).
On this occasion, the MPS Interim Front Command presented the An Giang Provincial People's Committee and the Provincial Police Department with medical equipment and supplies for pandemic prevention and control.
The delegation also gave VND 400 million to the forces directly in charge of pandemic prevention and control along the borderline in the province and VND 100 million to the COVID-19 infection tracing team of the Provincial Police Department.