Deputy Minister Le Quoc Hung works with DIC
16:42 28/09/2021
Major General Le Quoc Hung, Deputy Minister of Public Security, on September 27 worked with leaders and officers at the Representative Office of the Department of Information and Communication (DIC) of Public Security in Ho Chi Minh City.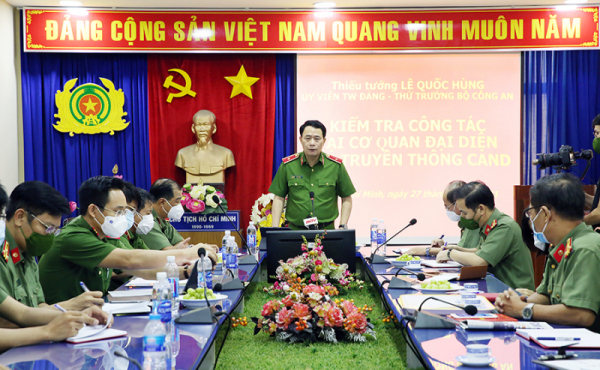 Senior Colonel Tran Kim Tham, Vice Director of the DIC and Vice Editor-in-Chief of the Public Security Newspaper, briefed the Deputy Minister and other delegates attending the meeting on activities and achievements of the office in performing the assignments over the past time.
Speaking at the meeting, Deputy Minister Le Quoc Hung applauded the achievements gained by the DIC's Office in HCM City over the pastime.
He spoke highly of the effort of cadres and staff of the Public Security Newspaper and Television in covering local efforts in prevention and combat of the pandemic as well as activities of the Public Security Forces in supporting people in pandemic-hit areas.
He also asked the public security press and media agencies to focus on reflecting the efforts of the Public Security Forces in preventing and controlling COVID-19, resolutely fight elements who take advantage of the complex COVID-19 situation to commit crimes, while raising the public awareness of pandemic prevention and crime control.
On this occasion, Deputy Minister Le Quoc Hung presented gifts to officers and reporters of the DIC who are working on the front line of the fight against the pandemic.