Deputy Minister Le Van Tuyen visits with Bac Kan provincial police
Thứ Bảy, 21/05/2022, 21:53
A delegation of the Ministry of Public Security (MPS) led by Deputy Minister Major General Le Van Tuyen on May 19 visited the Bac Kan Provincial Police Department.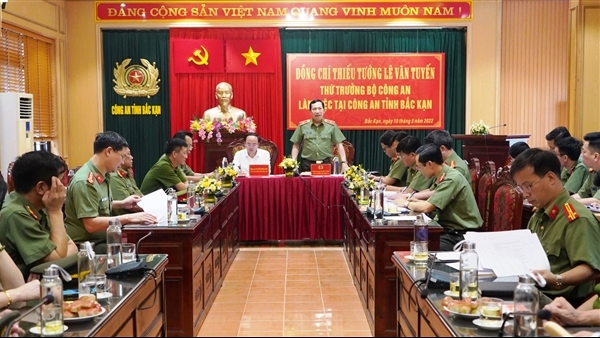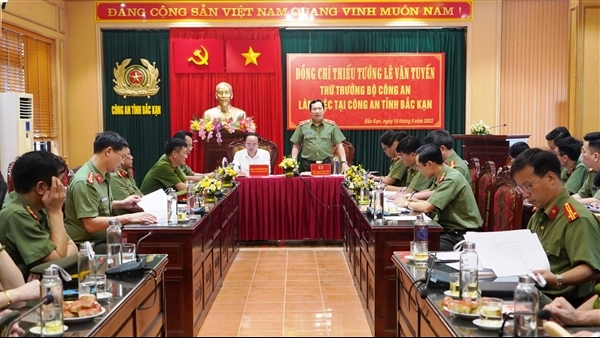 Senior Colonel Ha Van Tuyen, Director of the Bac Kan Provincial Police Department briefed the Deputy Minister and the delegation on the provincial police's task performance in the first five months of 2022, saying that they have surmounted all difficulties and challenges and fulfilled their assigned tasks. 
Particularly, the local police detected and handled security-related problems right from the grassroots level, safeguarded major political events in the province, cleared 85.4% of criminal cases and reduced traffic accidents in terms of number and casualty.
Regarding their missions in the coming time, Deputy Minister Le Van Tuyen requested the provincial police to continue thoroughly following resolutions of the Public Security Central Party Committee and especially Resolution No. 12 of the Politburo on enhancing the building of truly clean, strong, professional, elite and modern People's Public Security Forces meeting the task requirements in the new situation.
He asked them to grasp the local security situation and actively advise local Party committees and authorities on measures to ensure social safety and order.
In the field of logistics and technology, the Deputy Minister stressed that the provincial police should actively coordinate with relevant agencies to recheck the land allocated to them, quickly complete the construction of the Bac Kan Provincial Police Command Center as planned, build more houses and provide more working facilities for the communal police in the province.
* On the same day, Deputy Minister Le Van Tuyen and the delegation checked houses and working facilities allocated to communal police officers in the two communes of Cam Giang and Nguyen Phuc, Bach Thong district. The MPS leader also inspected the project to build the Bac Kan Provincial Police Command Center in Phung Chi Kien ward, Bac Kan city.