Deputy Minister Luong Tam Quang receives Chinese Ambassador to Vietnam
Thứ Năm, 30/09/2021, 22:06
Lieutenant General Luong Tam Quang, Deputy Minister of Public Security (MPS), on September 29 received Mr. Xiong Bo, Chinese Ambassador to Vietnam.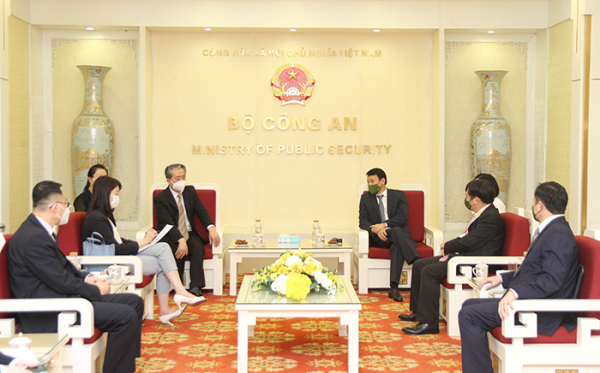 On behalf of the MPS, Deputy Minister Luong Tam Quang highly appreciated and thanked the Chinese Embassy and the Ambassador for their assistance in realizing the plan of the Ministry of Public Security of China to provide anti-COVID-19 vaccines to the MPS of Vietnam.
Deputy Minister Luong Tam Quang also thanked the Office of Liaison Officer of the Chinese Police in Vietnam for its effective coordination and exchange of information with functional units of the Vietnamese MPS, contributing to strengthening cooperation between the two ministries.
Deputy Minister Luong Tam Quang stated that, over the past time, the ties between the two countries in general and between the MPS of Vietnam and the Chinese counterparts in particular have been strengthened in prevention and control of crimes, especially high-tech crime, drug trafficking, human trafficking at national and provincial levels. According to the host, the good coordination has made an important contribution to strengthening political trust and developing the comprehensive strategic cooperative partnership in a practical, effective and stable manners.
In the coming time, Deputy Minister Luong Tam Quang hoped, Ambassador Xiong Bo will mobilize more assistance from China of anti-COVID-19 medicines and supplies for Vietnam as well as support China's cooperation and sharing of technology with Vietnam in general and with the MPS in particular to produce vaccines and drugs to treat COVID-19.
Sincerely thanking to Deputy Minister Luong Tam Quang for his warm and kind reception, Mr. Xiong Bo affirmed that, in his capacity as the Chinese Ambassador to Vietnam, he will make positive contributions to boosting the traditional friendship and cooperation between the two countries as well as between the Vietnamese MPS and the Chinese counterparts.