Deputy Minister Nguyen Duy Ngoc inspects implementation of Project 06 in Ninh Thuan
Thứ Ba, 08/11/2022, 21:26
PSNews - A mission of the Ministry of Public Security led by Member of the Party Central Committee and Deputy Minister of Public Security Lieutenant General Nguyen Duy Ngoc, who is also the Standing Deputy Head of the Working Group on the Government's Project on the application of population, electronic identification and electronic authentication data for national digital transformation in the period of 2022 - 2025, with a vision toward 2030 (Project 06), worked in Ninh Thuan province, on November 4.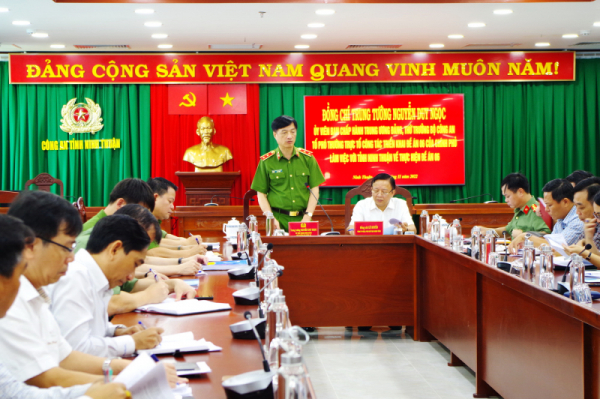 Reports at the working session read, Ninh Thuan province has mobilized maximum resources to implement Project 06 over the past time.
Particularly, the province focused on the provision of the 25 essential online public services, while connecting and integrating population data between the National Population Database and the networks of online administrative procedures at ministerial and provincial levels, so citizens do not need to make declaration when carrying out administrative procedures.
In short, the province has basically completed the realization of Project 06 by October.
Meanwhile, the Ninh Thuan Provincial Police Department directed its police subunits, particularly communal-level ones, to issue citizens'chip-based ID cards and electronic identification while cleaning residential data to ensure "correct, enough, clean, alive".
Deputy Minister Nguyen Duy Ngoc directed the Project 06 Working Group of Ninh Thuan province to review the roadmap, checked the implementation of tasks assigned to its subunits, promote connection between the local police force and involved agencies and branches, allocate the Project 06 budget to the participating organizations in a reasonable and effective manner.
On the afternoon of the same day, Deputy Minister Nguyen Duy Ngoc checked the work results of the Ninh Thuan Provincial Police Department in the past 10 months of 2022.