Deputy Minister Tran Quoc To works with Tay Ninh Provincial Police
Thứ Tư, 22/02/2023, 20:59
A delegation of the Ministry of Public Security led by Member of the Party Central Committee and Deputy Minister of Public Security Senior Lieutenant General Tran Quoc To paid a working visit to the Tay Ninh Provincial Police Department, on February 21, 2023.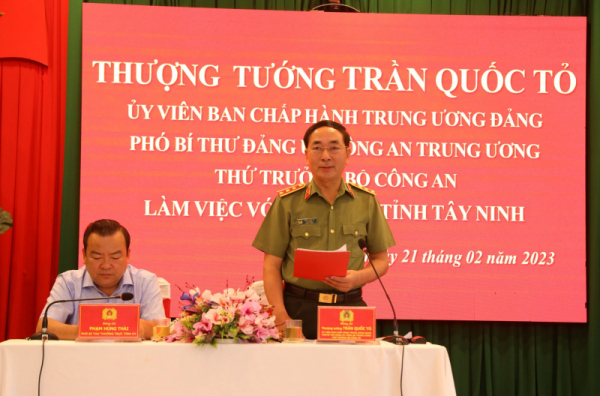 Standing Deputy Secretary of the Tay Ninh Provincial Party Committee Pham Hung Thai joined the delegation to work with the local police.
Reporting on the Deputy Minister, Director of the Tay Ninh Provincial Police Department Senior Colonel Nguyen Van Trai said that since the beginning of 2023, the local police have taken synchronous and professional measures to prevent crime and ensure social order while resolutely fighting illicit drug trafficking and economic wrongdoings. 
Over the past month, the local police have eliminated a number of drug trafficking lines from Cambodia to Vietnam through Tay Ninh province, detecting 52 cases with 75 suspects and seizing about 17.5kg of narcotics (heroin), 54.9kg of synthetic drugs.
The local police have also actively grasped the situation and denied the formation of criminal gangs and criminal groups; as a result, the number of criminal cases decreased by 37 cases, compared to the same period in 2022, of which 16 cases have been classified as serious ones. 
So far the local police have issued chip-based ID cards to more than 97% of the population and cleaned 100% of population data entries.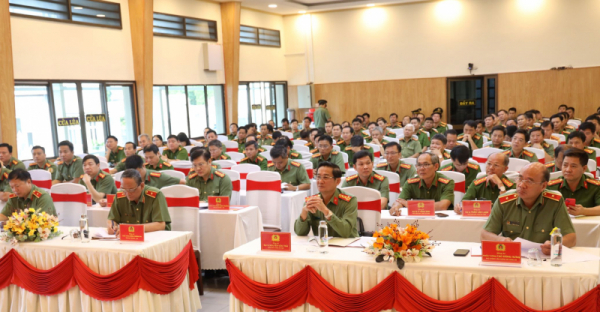 Regarding fire prevention and fighting, the local police has inspected more than 9,000 establishments, detected 867 violations, and fined 433 establishments.
At the meeting, leaders of local police agencies, district-, town- and commune- level police stations in Tay Ninh province also reported the delegation on both advantages and difficulties in implementing their tasks.
Speaking at the meeting, Deputy Minister Tran Quoc To hailed the results that the local police have achieved in recent years.
Regarding key tasks in the coming time, Deputy Minister Tran Quoc To asked he Tay Ninh Provincial Police Department to proactively grasp the situation and advise the Provincial Party Committee and the Provincial People's Committee to mobilize the entire political system to participate in ensuring security and order, and fighting crime.