Hanoi police promote "inter-family fire safety group" model
Thứ Năm, 25/05/2023, 22:16
PSNews - The model of "inter-family fire safety groups" has been proved to be an effective method of preventing fire at residential areas and household-based enterprises in Hanoi capital.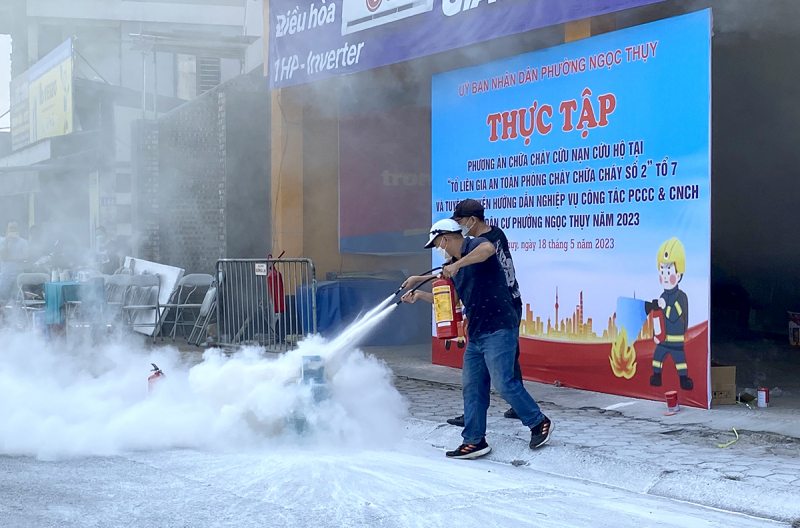 The People's Committee of Lieu Giai ward, Ba Dinh district on May 18 launched the "inter-family fire safety group" model at No. 20 of the residential group No.1 on Van Cao street.
At the event, the local people were provided with fire prevention knowledge and fire-fighting skills. The local police also helped people with skills to escape from fire, as well as raised local people's awareness of fire safety in their residential areas.
According to Mr. Nguyen Le Khoi, Vice Chairman of the Lieu Giai Ward People's Committee, the ward has a high population density with many households in small alleys and sharing small spaces, which makes it difficult for fire engines to operate when fire occurs.
Besides, many residents do not pay attention to fire prevention and safety work, which poses potential risks of fire and explosion in the locality.
Therefore, it is necessary to implement and duplicate the "inter-family fire safety group" model to protect people and property from fire.
On same day, the police unit of Ngoc Thuy ward, Long Bien district also held a fire prevention and rescue drill at inter-family fire safety group No.2. After that, they also held a public meeting popularizing fire safety regulations to local people. 
According to Lieutenant Colonel Nguyen Cong Hung, Deputy Head of the Ngoc Thuy Ward Police Post, Ngoc Thuy ward has many household-based enterprises —a potential of fire. Therefore, such a public meeting on fire prevention knowledge and firefighting skills is necessary.
In addition, the launch of the "inter-family fire safety group" model also helps reduce the risk of fire and explosion in the area, while contributing to building  solidarity among the households.