"Information technology plays key role in building revolutionary, regular, elite and modern PSFs"
13:11 27/10/2021
MPS - Recently, General To Lam, Minister of Public Security, led a delegation to work with the Department of Information Technology (DIT) under the Ministry of Public Security (MPS).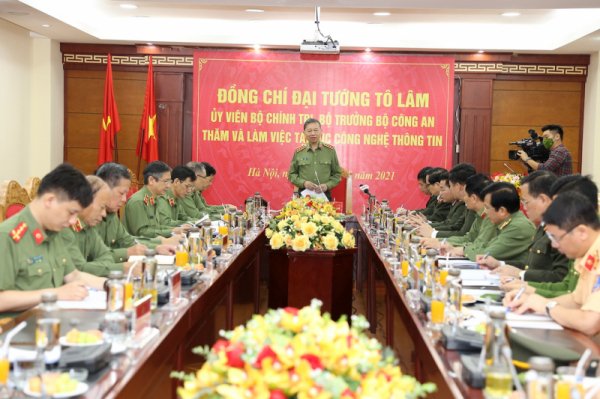 At the meeting, Major General Duong Van Tinh, Director of the DIT briefed the minister and delegates on results of the department's task performance over the past time, saying that the DIT has implemented important plans on applying and implementing various information technology projects in the Public Security Forces. 
Particularly, the DIT advised the MPS leadership on technical solutions for infrastructure investments and network systems as well as evaluated information safety for key projects such as the National Population Database project and e-ID project.
Speaking at the meeting, on behalf of the MPS leadership, Minister To Lam praised the DIT for its achievements at work over the past time.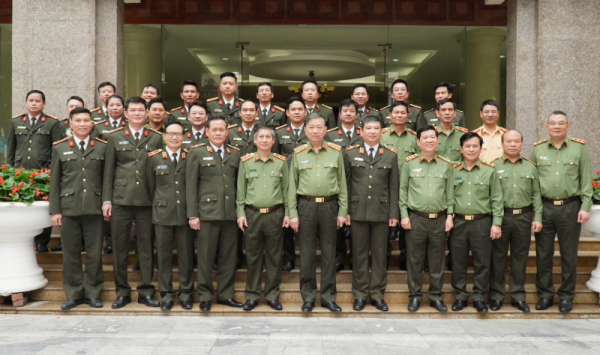 Minister To Lam emphasized that the MPS's leaders have set urgent objectives for the application of information technology and innovation of management in the Public Security Forces' operations, contributing to building digital governance and e-Government as well as speeding up administrative reforms for people and businesses and backing prevention and control of crime.
The minister asked the DIT's leaders to proactively propose to the MPS a long-term and strategic investment plan with the goal of building revolutionary, regular, elite and modern Public Security Forces by 2030.
It should give priority to modernization of the computer network to effectively exploit large databases, information systems and software, facilitating operations of the entire Public Security Forces, the leadership from the MPS headquarters to local-level units, the working connection between the MPS and other ministries, Central-level agencies, sectors as well as international counter-crime organizations.