Minister To Lam has talks with French Interior Minister
Thứ Sáu, 05/11/2021, 19:06
A high-ranking delegation of the Ministry of Public Security (MPS) led by Minister of Public Security General To Lam had talks with Mr. Gérald Darmanin, Minister of the Interior of France on the morning of November 4.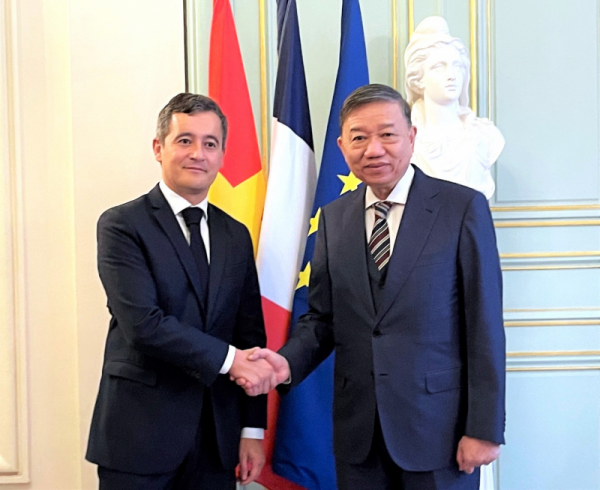 Speaking at the event, French Minister of the Interior Gérald Darmanin expressed his pleasure to welcome and work with the high-ranking delegation of the MPS of Vietnam, saying that General To Lam's visit to France was of great significance, contributing to strengthening bilateral cooperation between the two sides in ensuring security and order, especially in fighting transnational organized crimes, illegal immigration, and hi-tech crime.
The French Minister affirmed that France is committed to further making positive contributions to the maintenance of peace, stability, security and safety of navigation and aviation in the East Sea (South China Sea) as well as to strengthening cooperation relations with ASEAN in all fields, including improving maritime law enforcement capacity of the coastal countries in the East Sea region.
France is willing to further cooperation with Vietnam in the fields of security and police, support the Vietnamese side in training and procurement of firefighting equipment.
Minister To Lam thanked the French Interior Minister for the esteemed but warm welcome and believed that the visit would be an important milestone in strengthening the cooperative relationship between the two ministries in security, especially while the COVID-19 pandemic is posing unprecedented challenges to the two countries.
He affirmed that Vietnam always attaches importance to the development of relations with France, considers France as one of the leading partners in Vietnam's foreign policy for the sake of peace, cooperation and development in the region and the world.
Vietnam highly appreciates France's role in the European Union.
Vietnam also supports France's security strategy in the Indo-Pacific as well as well as its policy to become one of the countries of great influence in the French-speaking countries, the European Union, the Indo-Pacific region and the world, and join common efforts to address international issues.
General To Lam affirmed that the cooperation between the two ministries would become more and more effective, substantive and comprehensive in sharing information and criminal data, training and building capacity of law enforcement officers, preventing and controlling transnational crimes.
The two sides agreed to increase delegation exchanges at all levels, sharing of information, prevention and combat of illegal immigration while creating conditions for Vietnamese citizens to enter, live, study and work in France legally.
At the meeting, the two ministers signed a Letter of Intent between the Vietnamese MPS and the French Ministry of Interior on building capacity of fire and rescue forces.