PPSAP striving to become prestigious national political theory research center
20:20 18/11/2021
General To Lam, Politburo Member and Minister of Public Security, on November 17 attended and delivered a keynote speech at the school year opening ceremony at the People's Public Security Academy of Politics (PPSAP).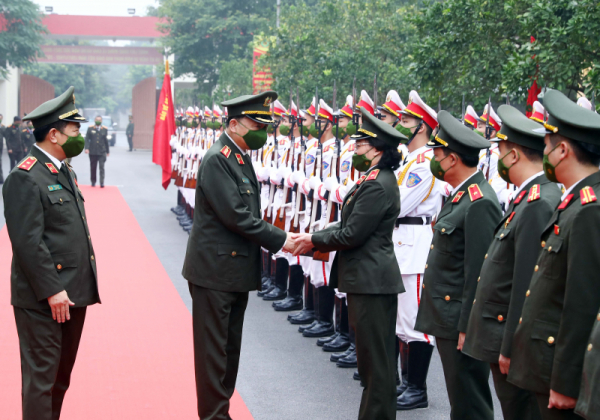 At the event, Lieutenant General Tran Vi Dan, Director of the PPSAP, briefed delegates and participants in the event on the task performance and achievements in education and training of the academy in the 2020-21 academic year.
For their outstanding achievements in last school year, the PPSAP and a division under the academy were honored with the Emulation Flag by the Ministry of Public Security, while a division under the academy was presented with the Emulation Flag by the Government.
Speaking at the event, Minister To Lam recognized and praised the achievements of teachers, employees, and students of the PPSAP in the 2020 - 2021academic year.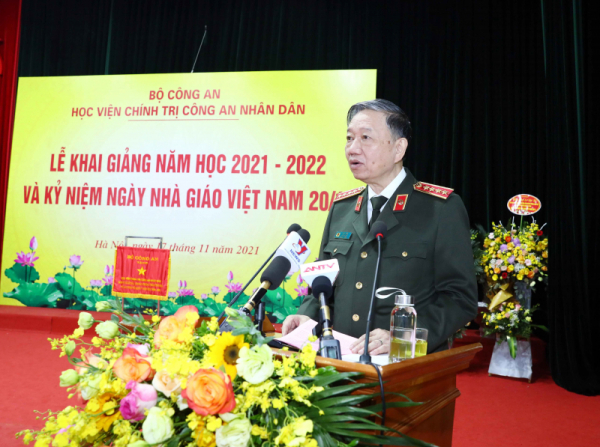 He asked the academy to make breakthroughs in theoretical research on Party building and force building, strengthen its internal solidarity, continuously improve capacity and qualifications of its cadres and party members, and build the PPSAP as a leading center for education and research of political theory, Party work, political work, leadership in the Public Security Forces and the country as a whole.
The academy should effectively conduct education and training activities in the complicated situation of the pandemic, enhance application of information technology to management, education and training, restlessly renew teaching methods, and proactively open online courses.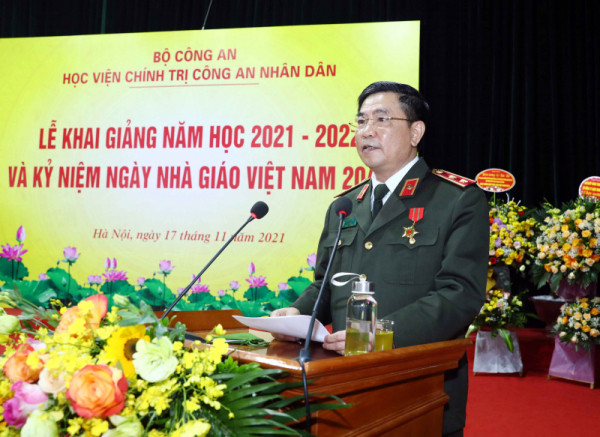 On this occasion, General, Minister To Lam beat the drum to open the 2021 - 2022 school year of PPSAP. Under the authority of the State President, Minister To Lam presented the "For National Security" Medals to individuals with outstanding achievements, and the Emulation Flag of the Ministry of Public Security to the PPASP.
Several photos at the event: