Preparatory AMMTC 15 takes place
21:06 29/09/2021
The ASEAN Senior Officials Meetings on Transnational Crime (SOMTC) in preparation for the 15th ASEAN Ministerial Meeting on Transnational Crime (AMMTC 15) and relevant events was hosted by Brunei Darussalam – the Chair of ASEAN in 2021 in the form of a video conference.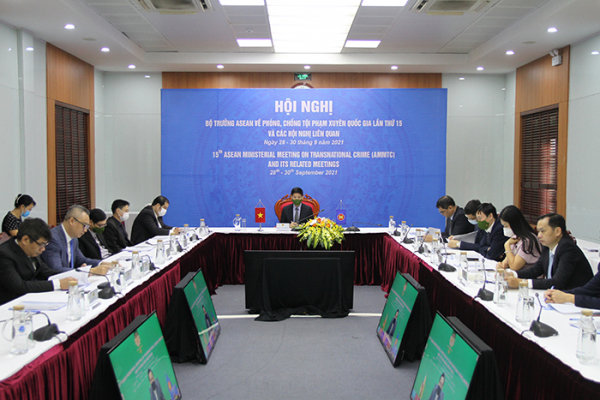 The Vietnamese delegation attended the meeting, led by Lieutenant General Nguyen Thanh Son, Director of the Department of Foreign Relations under the Ministry of Public Security, Head of the SOMTC of Vietnam.
At the preparatory meetings, representatives from ASEAN member countries discussed the working program, agenda, draft joint statement and other relevant contents for the AMMTC 15.
The head of the Vietnamese delegation co-chaired the SOMTC in preparation for the 2nd AMMTC+Korea Ministerial Consultative Meeting on Transnational Crime, which is expected to take place on September 30 in the form of video-conferencing.
Speaking at the meeting, the Vietnamese head delegate proposed that the two sides continue to maintain and strengthen more substantive and effective cooperation to concretize the Action Plan for implementation of the Joint Vision Statement for Peace, Prosperity and Partnership between ASEAN and the Republic of Korea for the 2021-2025 period.
Accordingly, RoK and ASEAN countries will continue information exchange, coordinate in verification and investigation of high-tech crimes, strengthen cooperation in the field of prevention and control of drug-related crimes.
Vietnam suggested that RoK continue to coordinate effectively with Vietnam in particular and other ASEAN countries in general in resolving cases related to the parties, especially in assisting in arrest and handover of Korean wanted fugitives fled to Vietnam and other ASEAN countries and vice versa.
At the end of the preparatory meeting, the delegates agreed on important contents to be presented at AMMTC 15 and related conferences from September 29 to 30. The Vietnamese delegation to attend the official meetings will lead by Lieutenant General Luong Tam Quang, member of the Party Central Committee and Deputy Minister of Public Security.