Public security sport sector enters a new phase
Thứ Năm, 21/09/2023, 22:04
PSNews - The Ministry of Public Security organized a meeting on September 20 to praise groups and individuals for their outstanding achievements in training and competition, and encourage the People's Public Security Sports Delegation to attend ASIAD 19 in Hangzhou, China.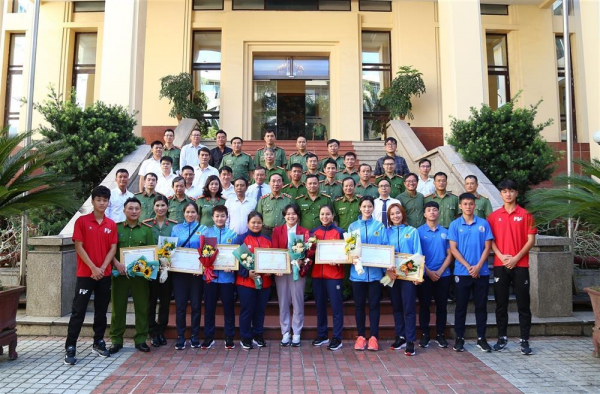 Over the past years, thanks to the sufficient investment of the Public Security Central Party Committee and the Ministry of Public Security in physical training and development of professional sport persons, the Public Security Forces have obtained large achievement in domestic and international professional sport tournaments.
In particular, on August 17, markswoman Trinh Thu Vinh of the People's Public Security Shooting Team participating for the first time in the women's 10m air rifle event of the World Shooting Championship in Baku (Azerbaijan) in 2023, won a ticket to the Olympics. 
Although she is quite young, under great pressure of a world-class tournament, Trinh Thu Vinh still excellently achieved a score of 175.6 and ranked 5th among the world's 8 best markswomen strongest.
At the meeting, Deputy Minister Tran Quoc To emphasized that the sport sector of the People's Public Security Forces, especially high-performance sports, will enter a new phase, and have an important missions of establishing the People's Public Security Sports Association, Professional Football Teams such as Hanoi Police Football Club and PVF - Police Club, as well as training professional athletes for domestic and international competitions in the coming time, especially the upcoming 19th Asian Games in Hangzhou, China.