Tra Vinh police actively prevent drugs from entering high schools
Thứ Sáu, 19/05/2023, 21:36
Drug-related crimes have become increasingly complicated in recent times while drug addicts become younger and younger. Police forces in Tra Vinh city (Tra Vinh province) have discovered many drug-related cases involving young people, teenagers and even children.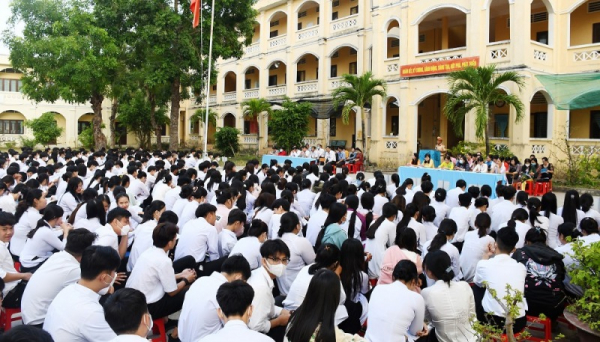 Since 2022, the police forces in Tra Vinh city have uncovered 30 drug-related cases, prosecuted more than 40 suspects, sent 31 teenagers to compulsory detoxification facilities, and fined over 100 people for drug abuse. The arrested often admitted that they had used drugs for fun during birthday parties and gatherings.
The police pointed out various reasons why local young people and students use drugs. Particularly, a number of young people see drugs as "valuable gifts", while some use tricks to get their friends to use illicit drugs.
In order to prevent students from getting addicted, the local police regularly coordinate with educational institutions to educate laws and harms of drug to students and young people, and explain methods and tricks used by criminals to make young people get addicted.
Colonel Tran Thanh Vu, Deputy Chief of the Tra Vinh City Police Station, said his unit regularly cooperates with local high schools to hold law dissemination events for local students. They also asked parents to pay more attention to their children, giving them skills to avoid drugs and other stimulus.
Tran Van Ut, Vice Principal of Tra Vinh city's high school, said students who are in their ages of premature personality, are psychologically unstable and more often want to experience new things and show off. As a result, they easily become preys of drug criminals who take advantage of the Internet, social networks to advertise and trade illicit drugs and hold "drug parties".
Since 2015, the school management board has developed a program to prevent drug crimes, school violence and traffic violations. The school has added drug prevention to its teaching program for students while boosting coordination among the family, school and community in protecting students from drugs.