Vietnam and Singapore strengthen cooperation in cyber security
Thứ Tư, 13/10/2021, 18:34
General To Lam, Minister of Public Security, on October 11 held a virtual meeting with Mrs. Josephine Teo, Minister for Communications and Information and Minister-in-charge of the Cyber Security Agency of Singapore.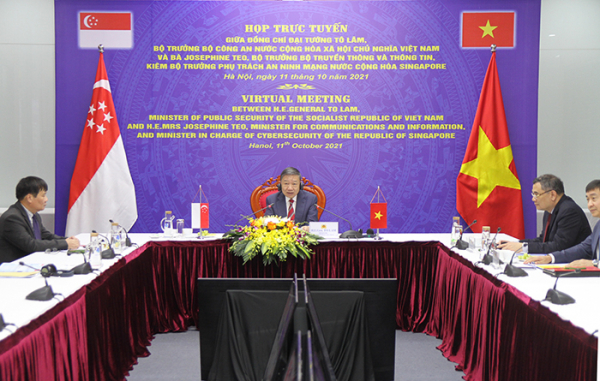 Minister To Lam stated that the Vietnam - Singapore strategic partnership has been continuously thriving and developing over the past time in many fields, including politics, economy, security and national defense.
At the same time, the cooperative relationship between the Ministry of Public Security (MPS) of Vietnam and Singaporean law enforcement agencies has been maintained and strengthened.
The MPS of Vietnam and the Ministry of Home Affairs of Singapore have actively cooperated in prevention and control of transnational crimes, especially within the framework of the ASEAN Ministerial Meeting on Transnational Crime Prevention (AMMTC), the ASEAN Ministerial Conference on Cyber Security (AMCC), ASEAN Police Chiefs (ASEANAPOL) Conference.
Minister To Lam suggested, the two ministries maintain and organize more cooperation activities in the field of cybersecurity.
Both sides should establish a coordination mechanism to improve the efficiency of cooperation in the fight against cybercrimes and high-tech crimes between law enforcement agencies of the two countries on the basis of international treaties, cooperation agreements, and memorandums of understanding.
For her part, Ms. Josephine Teo noted that Singapore would persuade countries with technological advances in social management, such as the US, Japan and South Korea, to support agencies in charge of cyber security of ASEAN countries with these technological advances so that regional countries could improve their cyber security capacity as well as achieve the goal of a "resilient cyberspace in ASEAN".